January 4, 2014:
We always start off the New Year by keeping the last few messages from last year's blog on this page. They gradually move down as we add more from the top. Don't I sound as if I know a lot about technology? I don't! That's why I need Bobbi.
Our Fan Club keeps growing! We'll be adding another cat this week, and I'm daring to set a goal of 333 cats by my 10th birthday. Why that number? Because there are 33 cats (and a parrot) in my MEWSical Society.
Speaking of the Society, it's a Virtual Musical Society so we're casting our next show. We've had several requests for Alice in Wonderland, and will be asking Society members to audition for key roles. I expect Willow and Lily (both of whom are featured in our first set of blank greeting cards) to vie for the role of Alice, while the tuxedos compete for the Mad Hatter, Knave of Hearts and March Hare. We'll need siblings to play Tweedledee and Tweeledum, and a white male for the White Rabbit.
Stay tuned; this is going to be fun!
The four male alpacas in our camelid chorus were just featured in a CBC new clip. Watch Brinks, Bee-Jay, Hudson and Morgan in action (along with the dogs who guard them at: http://bit.ly/Ki2VQR.
---
December 28, 2013:
We had a great Christmas. Here I am, peering into my gift bag, ready to snatch the tissue paper and pull out my present.
I had already received a beautiful new catnip mouse from MEWSical Society pal, June Coxon. It has purple stripes and a bright green tail, so is unlikely to be attacked and stripped as I do with my fur mice.
Earlier this week Bobbi found two of these, one with its fur intact, splayed with the lining up, in a gruesome post, in the middle of the hallway. The plastic centre was in the guest room, where I had moved it for safekeeping.
The other mouse was still intact, but she could see how I had already started to carefully remove the stitching on the underside. If you want to know more about this process, click on How to Kill a Toy Mouse.
But back to my present! As you can see, it's a sturdy bag with a spring-loaded feature so it stays open, and has multiple holes to search for toys.
I LOVE IT!
December 21, 2013:
Every year we share the wall hanging created by a Simon Teakettle fan who heard Simon Teakettle's Twelve Days of Christmas on Arthur Black's CBC network radio show, Basic Black.
You can see that Mrs. Brown added her name, as this was her original design. Notice the chipmunk in high tree, the three fat frogs, the six snowflakes falling and the eight faucets leaking.
The entire poem is in Mewsings/Musings.
We've stayed in touch with Art, who now writes a column for Zoomer Magazine, and continues to bring out a new humor book every few years. Some of his books are on our Humor page.
December 14, 2013:
This is a busy time, as Bobbi's birthday is next week, and I'm trying to write her a birthday poem. Meanwhile, two of the ladies who live with members of my MEWSical Society took her out for an early birthday dinner last week. She saved the Happy Birthday thingy from the top of the cake, but wouldn't let me play with it!
Speaking of poems, she wrote a silly ditty for the Ottawa Independent Writers' Christmas party, and came home with 2nd prize!
December 7, 2013:
December 4 was Santa's List Day. As usual, I'm late to announce this because I have the Same List every year! The photo at the right shows me with the contents of my stocking from last year, but I see that my stocking hasn't even been taken out of the box to come upstairs yet this year.
Bobbi assures me that this is because I'm getting two Big Presents this year instead of a bunch of small ones. We'll see!
November 30, 2013:
Socks Miles, who teaches all the other cats at the Institute for Kitty Cat Research, has just joined my MEWSical Society, while three of his feline pals have joined the Fan Club. He's a tuxedo, with quite a bit more black than I had as a kitten.
If you go to the MEWSical Society page, you'll also see Aragon the Cat, aka Lord Tubbington, who has joined us as a Special Guest Performer. I'll post a photo of him modeling a handsome jacket soon.
December 4 is Santa's List Day, so I guess I need to start writing mine. Stay tuned to read it next week.
November 23, 2013:
Some exciting NEWS is coming soon. First, we have a new affiliate, The Institute for Kitty Cat Research,
whose new book is featured on our Favorite Cat Books page. I'll be receiving My Very Own Copy of this book, so I can imitate some of the positions, along with a mug featuring Picky Cat. I'll have Bobbi take a photo of me with these when they arrive.
One of the cats at the Institute will also be joining the MEWSical Society, to replace Tippi Foss, who has passed over the Rainbow Bridge. As soon as that page has changed, we'll announce it.
Meanwhile, a Famous Celebrity Cat is joining our Fan Club! Stay tuned for a photo of Aragon the Cat, who plays Lord Tubbington on Glee.
November 16, 2013:
This is Adopt a Senior Pet Month. There are a lot of senior dogs and cats in my Fan Club, but I'm only 7, which is equivalent to 45 in human years. In other words, I'm in My Prime!
But sometimes a cat has to retire. Such is the case with The Opinionated Pussy Cat, who has just turned over his blog to Elvira Mistress of Felinity.
Joining the Kundurazieff household is Sneakers, a tuxedo with unusal markings.
November 9, 2013:
We just added three of Arthur Black's latest books to the page where we feature humor. The first Simon Teakettle became pals with Art when he was interviewed on Basic Black, the popular CBC radio program aired on Saturday afternoons.
Since the cover of Fifty Shades of Black presents Art in a dapper suit, he will probably appreciate knowing that designer Karl Lagerfield's cat, Choupette, has has two iPads, two maids, and a special seat at Lagerfeld's table, on a pillow embossed with the slogan Ici, c'est la place du chat (here is the place of the cat), because she doesn't like to eat on the floor.
November 5, 2013:
We usually blog on the weekend, but we were distracted by news from the Cat Writers' Association conference, because the Lady who lives with Aimee, one of our MEWSical Society members, won the Shojai Mentor Award for 2013.
This is Very Special as it comes with a plaque and $500. Bobbi won it in 2010. So Congralations to Darlene!
Meanwhile, Kitters Kerr, a handsome tuxedo, has joined the Fan Club with his brother, Ozzie, and one of their two collies. The other one, Bay, has just had puppies, who will be joining us later.
October 29, 2013:
This is National Cat Day, which is a better day for us to celebrate than Hallowe'en. I do, however, enjoy posing with pumpkins and greeting little neighbors as they come in costume to collect candy.
This weekend Dallas is the site of the annual conference of the Cat Writers' Association. This is where Mewsings/Musings was launched in 2001, and won a Certificate of Excellence.
Meanwhile, we want to report that one of our fans, Elvira, Mistress of Felinity is taking over the Opinionated Pussycat website.
October 19, 2013:
October 16 was National Feral Cat Day. Although I was lucky enough to be born in a house, and then brought to the Ottawa Humane Society after I spent the mandatory 8 weeks with my mom and siblings (learning Manners as well as How To Wash), Tiki (Simon Teakettle II) was a feral, so we think it's very important to support efforts to rescue feral cats.
National Feral Cat Day was started in 2001 by Alley Cat Allies, one of our affiliates. We have lots of information about feral cats on our Cat Facts page, and here's a blog by Cathy Unrah, who wrote a delightful book about her feral cat. Taming Me is on our Favorite Cat Books page.
October 12, 2013:
Bobbi always wears cat jewelry when she goes out. She has some pendants and earrings, but she usually puts a pin on her jacket lapel. These are less than half of her collection, most of which were gifts from friends over the years.
If you look closely at my photo, to the right, you'll see that I wear "jewelry" too. I have my microchip tag, my Gatineau license (the red one), and a heart-shaped tag with my name on it.
October 5, 2013:
Do these eyes frighten you? They shouldn't. They belong to Tiki (Simon Teakettle II) who was, by all accounts, a very gentle guy. I didn't arrive here until he was gone, so I didn't know him PURRsonally, but I believe Bobbi when she says he was a True Gentleman.
But evidently, some people are afraid of Black Cats. The Ottawa Humane Society, where Bobbi adopted me seven years ago, has mounted a campaign to get more black cats adopted. It's even offering a Bonus Package to anyone who adopts a black pet this month, including a pet bed and discounts on other merchandise.
The OHS is celebrating their 125th anniversary this year. The anniversary of my adoption is Oct. 26. Cleveland Amory said, One of the ways in which cats show happiness is by sleeping, so don't be surprised if that's how I mark the day!
October 1, 2013:
One thing you need to know is that Cats Don't Apologize. So it wasn't My Fault that there was no blog post last weekend. Our computer CRASHED, and I was nowhere near it, so can't be Blamed. In fact, I was napping on my new pet mat, which friends brought to me from England. I'll catch up by next weekend.
September 21, 2013:
Exciting news: We have our first Fan Club member from Indonesia! Jesslyn Alvin lives in West Java and crochets handmade crochet clothing for dogs. She contacted Bobbi via LinkedIn, and told us that her colorful cotton sweaters, fancy dresses, harnesses and custom-made costumes are also suitable for cats!
As readers of this blog know, I love to dress up (see me in my Band Uniform at the top of this page) so I'm delighted to welcome these chihuahua models to my Fan Club.
September 14, 2013:
The new season at the Great Canadian Theatre Company started this week, with a new Canadian political satire called Proud. Simon Teakettle has been a supporter of GCTC for 35 years, starting with the very first Simon. Last year they asked me to pose for their Christmas card! I send a new backstage poster with Bobbi for every production. They often post it in the box office, or take it backstage.
Proud received great reviews, described as an astute, funny play and dazzlingly witty.
September 7, 2013:
I know this is Happy Cat Month, but we can't resist these adorable new puppies, who were just born in the Netherlands. For some reason, a bunch of Border Collies have friended us on Facebook, and many are joining the Fan Club.
Border Collies were bred as working farm dogs, so have tradtionally been pals with barn cats. And Terzo loves dogs, given that there are now 75 (plus these 8 pups) in his Fan Club.
August 31, 2013:
The fabulous ACR0-Cats, the opening act for my MEWSical Society, are on tour. This past week they played in Montreal.
Meanwhile, we've added two new members to the Fan Club, cat bloggers from the Kundurazieff household in Houston, Texas. Nikita is The Boss, but has welcomed a sweet tortoiseshell called Elvira recently, when she appeared on his porch.
They are among a wide range of Working Cats, who deserve to celebrate Labor Day this coming weekend. I plan to spend it playing with the New Toys I received for my birthday a few weeks ago.
August 24, 2013:
August 17 was Black Cat Appreciation Day, but it celebrates only solid black cats, which is why we didn't get any special treats. But we do have several statues of Bastet, the famous Egyptian cat god which is currently featured in an exhibit at the Brooklyn Museum. It's called "Divine Felines: Cats of Ancient Egypt" and the exhibit notes point out that Bastet didn't just sit at attention and look regal. He danced, he sang, and he played the lute!
We have an Egyptian cat in my MEWSical Society, of course, although she's not black. Miss Noha Hagenguth is a seal-point Siamese who lives in Cairo. We've heard she's weathering the curfew by playing with new cat toys Heike is creating for her. We're thinking of Heike and Miss Noha, hoping they're staying safe.
August 17, 2013:
August 11-15 was National Scrabble Week. I learned how to play this game when I was very young, because Bobbi took the little wooden pieces that spelled out MEWSINGS and told me this would be Good Publicity.
I learned early on that Publicity Director was My Job at Simon Teakettle Ink. Of course, as soon as she took the picture, I swatted the tiles across the rug and one may still be hiding somewhere!
August 10, 2013:
Friday, August 8th, was World Cat Day. So It's fitting that we've welcomed another Cat Blogger to our Fan Club. Cokie The Cat is the Hollywood Insider, and blogs about the fun of living with a woman who finds and manages the locations where movies and TV shows are filmed. What fun that must be!
Meanwhile, I've received new photos from members of my MEWSical Society, including Snuggles, who demonstrated how to plan ahead to find a way under the covers to create a sleeping nest, and Willow, drunk on catnip. See then on the Fan Club page.
August 3, 2013:
Sometimes several things in Bobbi's life come together in unexpected ways. One of her favorite former students from The Latin School is Susan Haskins, producer and co-host of Theater Talk, a weekly TV program on Thirteen/WNET (New York City's PBS affiliate) since November 1996, and recently syndicated to other stations across the U.S.
Looking through the program's archives, Bobbi came across an interview with Alan Arkin, talking about working with Peter Falk in the 1979 film, The In-Laws. The interview was aired shortly after Falk died, in 2011. As it happens, Bobbi was the Managing Editor of a book published that spring. Prose to Go: Tales from a Private List included a story by Bobbi about working with Peter Falk when she was a student at Barnard College.
July 27, 2013:
This is my birthday week - sort of. We don't know exactly when I was born, so Bobbi has estimated the middle of July because I was about 12 weeks old when she found me at the Ottawa Humane Society.
I think we should Celebrate for the entire summer. I will have a Birthday Party in August, when the children across the street are free.
I'm expecting several New Toys, some Treats, and perhaps a Few Surprises. Hope that among my Gifts are a few new members for my Fan Club!
July 20, 2013:
It seems I missed a number of Important Dates in July! This is National Doghouse Repairs Month (!), as well as Anti-Boredom Month. July 6 was Take Your Webmaster to Lunch Day, and July 11 was Pet Photo Day.
So here is my latest photo, and I want to go On the Record that I take my webmaster to lunch almost Every Day!
I was much more bored over the winter, when there was so little see out of the windows. Now we have frequent visitors to the bird feeder outside our office window, and I also enjoy watching the children across the street ride their scooters and bikes up and down.
July 13, 2013:
Here is a baby picture of one of our newest Fan Club members. Little Mickey was found by Stacey Grande, a real estate agent, under a bush behind a home she was listing. His eyes were not open yet, so he must have been under two weeks old! She took him to the vet and then hand fed him until he could eat on his own. He lived in a plastic tub (which Stacey took everywhere for a month) and then in a bathtub (until he could climb out). At that point, she took him to live with her daughter in Santa Monica.
Stacey is former student of Bobbi's from The Latin School of Chicago, whose two dogs have also joined the Fan Club, along with Little Mikey's Russian Blue companion, Pablo.
July 6, 2013:
Welcome to our First Ferret! Debbie lives in Toronto with four cats and a bunny, all of whom have joined the Fan Club. She is the subject of a children's book written by Conny Manero, who is such an animal lover that she offers a free stuffed owl to anyone who purchases a copy!
Debbie is the story of a ferret who moves into a high-rise condo and has to learn, from the resident cat, Charlie, how to behave. Along the way, the reader learns all about ferrets, who evidently like to snitch things. If she lived here, I'd have to find new hiding places for all my fur mice!
June 29, 2013:
This is Canada Day weekend, the official start of Summer. I'm an Indoor Cat, so I have to find ways to amuse myself inside, especially when there's not much to watch from my window perches.
The birds don't come to our feeders much when there's so much else to eat, so I've been exploring last year's birthday present, a solid tunnel with a scratching board on top.
You can me sitting beside it, looking through the front hole. Then I'm peering through the back hole, at a toy inside.
Finally, I go inside to investigate further.
Bobbi has put a lot of Interesting Things to Play With inside, as well as a sparkly necklace across the top, which I was playing with last night (after she put the camera away, of course!).
I don't take any of my Fur Mice into the tunnel, for two reasons. First, I want to be able to grab one quickly if I feel he might run away.
Also, the tunnel is open at both ends! I hide my mice in the den closet (where I can open the sliding doors easily) and tuck them into corners where Bobbi doesn't see them.
June 21, 2013:
Today is Take Your Pet to Work Day. We choose to interpret this as Put Your Pet to Work, as I spend a Lot of Time promoting the business of Simon Teakettle Ink. Here I am, on the bookshelf with a copy of Mewsings, reminding Bobbi to take books with her to the final Ottawa Independent Writers' meeting of the season.
She didn't read from our book this year, but rather her account of meeting Peter Falk before he became famous, in Before Columbo, one of three stories she contributed to Prose to Go: Tales from a Private List.
Lily Fry, a member of my MEWSical Society, also takes her job seriously. Currently, she's promoting Patricia Fry's 38th book (and first novel!), Catnapped.
I've added this book to my Favorite Cat Books page.
I love the idea of a kleptomaniac cat who helps rescue other cats and meets a dog and a handsome veterinarian (the Love Interest for her owner) along the way.
This is the first in a series of Klepto Cat mysteries.
June 15, 2013:
If I lived in California, I'd be tempted to buy the house photographer Bob Walker and his wife Frances Mooney customized in San Diego, California, to give their 10 cats an indoor playground. The house has a a floor-to-ceiling scratching post and connecting beams that allow their cats to wander and play throughout most of the house. Read about his remarkable house at: www.thecatshouse.com.
June 8, 2013:
If you know someone who is considering adopting a cat, here is a great article by one of our Fan Club members about why that's a good idea. Go to: http://tinyurl.com/kyo8oor
Little Yellow, Lenny and Linus Bangs live in Maine.
Meanwhile, our newest Fan Club member is Talbot, who lives in Florida.
June 1, 2013:
On the heels of Hug Your Cat Day we have Adopt a Cat Month. I always like to promote cat adoptions, and want to point out that most members of my MEWSical Society and Fan Club are rescues.
The newest member is Jacqueline Singleton, who came to live with her current human room-mate after her original owner died. She has been resisting my invitations to join the Fan Club, so the only photo we have so far is this tentative peek over the edge of a table.
May 25, 2013:
May 30 is Hug Your Cat Day! My favorite hugs are actually tummy-rubs combined with head scratches. That's when I purr the loudest.
Sometimes I have to WORK to earn these. Here I am practising my Latest Trick, touching the cup for a treat. It's taken me a long time to learn this, because I thought that if I touched any of the three cups, that would be Good Enough. But no, Bobbi expects me to figure out which cup the treat is under!
May 18, 2013:
We had an earthquake this week! It didn't do any damage, although it was felt over a wide area. I slept right through it, because I was taking a nap on our waterbed, so didn't realize what was going on.
But animals often predict earthquakes, and Bobbi remembers when Tiki predicted the huge earthquake in the Far East that caused the tsunami in December, 2004. He went down to the basement Christmas afternoon and refused to come up, didn't eat for 48 hours (although he was drinking water and using his box), and Bobbi thought he was sick. But he didn't have a temperature, looked fine, didn't seem to be in pain or doing anything else out of the ordinary except that he was "hiding."
The spot he had selected was a tub chair in the den, which is tucked in the corner where two bearing walls meet, a very safe spot to be if the house is going to fall down around you!
Bobbi then heard on the news that an earthquake of that magnitude can cause a subtle "wobble" of the earth's axis. Not enough to be perceptible to humans, but enough to cause particularly sensitive animals to react. Before that earthquake, most of the shore birds and other animals fled to higher ground, and this phenomenon has been reported widely by scientists.

Tiki's experience was included in an article in Cat Fancy in the June, 2009, issue. The article, by Andrea Dorn, is Can Cats Predict Earthquakes?
May 11, 2013:
Happy Mother's Day! I don't remember my birth mother, and never call Bobbi Mom because she's my employee at Simon Teakettle Ink, not my mother!
Purebred cats do know who their mothers are, and we've just added a purebred blue Siamese to our MEWSical Society. His name is Merlin, and he and his pal, Domino, live with Layla Morgan Wilde, a holistic cat behaviorist. Layla writes the Cat Wisdom blog, and another cat in that household has just been selected for the AmazeCats playing card deck. Odin was a foster cat who came to Layla with a badly infected eye that had to be removed. He soon won everyone's heart and became a member of the family.
See his adorable photo in our Fan Club.
May 4, 2013:
Sammy Teakettle Olson was named after Tiki, and is a valued member of our MEWSical Society. He recently lost his partner, Rufus, and a new sibling has just joined the household. Mickey has joined the Fan Club, and may audition for the Society at some point.
Sammy is trying to set a good example for this new guy, and we advised Lorna & Bob to read Bobbi's award-winning article on training (see the link directly above this blog) and also my video, which demonstrates how well I obey.
Meanwhile, we're expecting two more cats to fill the missing spots in the MEWSical Society very soon.
April 27, 2013:
Every so often we have to replace members of my MEWSical Society. When a member passes over the Rainbow Bridge, he or she is moved from the Society page to the Memorial page. They never lose their places in the Fan Club, however, or in any of our Virtual Productions.
We recently lost Pidgeon and BigFoot Stowe, but are happy to welcome their replacement, Jacob, a baritone who likes to practice vocalizing in the yard.
There are still two spots to fill, so Stay Tuned for more new members!
April 20, 2013:
I don't think I've told you, my Faithful Followers, that I've been learning a New Trick. You can see me, at the right, sitting in front of a tray with three clear cups. Next, Bobbi will put a treat under one of the cups and tell me to Touch It.
This isn't as easy as it sounds! I'm used to touching a treat on Bobbi's hand or sitting on another surface, but not Underneath Something.
Sometimes I forget to watch which cup she hides the treat under, and just touch whichever is closest. This, I've learned, isn't Good Enough.
This is a Work in Progress, and we'll continue the saga next week!
April 13, 2013:
One of my MEWSical Society members, Geneva, sent me this photo showing how her house-mate, Snuggles,
monopolizes the top of their cat tree. I wish I had this elaborate a structure in my house! It looks very comfy, with places to sit and look out the window as well as to curl up for a nap.
I have only carpeted shelves in several of our windows, which do provide different views of the front and back yards. Which leads me to mention that our front yard and driveway are covered in Snow again!
What happened to spring?
April 6, 2013:
These hugging kangaroos are among our new Fan Club members from Australia! They join us from Gold Coast, Queensland, with a koala, twin Birman cats, and two miniature poodles. Another member of the Bell family, a horse named June, will be joining us soon.
We have Willow, one of the first members of my MEWSical Society, to thank for this. Before she let the couple she lives with leave Edmonton on their Long Trip Down Under, she made them promise to find some Australian fan club members.
March 31: 2013: Happy Easter!
And Happy Passover to our Jewish friends! As you can see, I'm holding onto my angel bunny because I worry she could either hop out of my reach or fly away! Since when does a bunny have wings?
Exciting news this week! We have our first Fan Club members from Australia, and they include a koala and two kangaroos!

March 23, 2013:
It's supposed to be spring, but I think it's the Silly Season, because we still have so much snow outside. Instead of sitting in the front screen door (which Bobbi refuses to open for me), I have to amuse myself with toys like this ball that runs around a track and a fluffy pink ball on a spring.
I suppose if I went outside, I could dig in the snow like one of the new members of my Fan Club. Pluskat Bulanda lives in Maryland, so she probably doesn't see snow that often. Also, she probably needs to escape the house to keep from being tormented by a parakeet, a miniature parrot, and a terrier called Life of Riley.
Mrs. Doyle is Not Happy about the parrotlet, who has learned how to pick up paper clips and drop them into a box. But I reassured Mrs. Doyle that she could never be replaced in the Percussion Section of my MEWSical Society.
She did insist, however, that this tiny imposter not appear in this blog. So you have to see him on the Fan page.
March 16, 2013:
When I formed my Virtual MEWSical Society, my intention was to have only cat members, but Mrs. Doyle, a grey parrot who was born the same day I was, wanted to join. I agreed, thinking she could be the girl singer. Problem was, Mrs. Doyle couldn't sing. She preferred to drum, with her claws or with any implement she could find.
So we ended up with 33 cats and a parrot, and because both Mrs. Doyle and I were percussionists, we persuaded the world famous percussion group, NEXUS, to advise us.
Our Society membership has changed a bit, as some of the original cats moved onto the Memorial Page and were replaced by new members. Our group now has members from 9 countries: Canada, the U.S., the U.K., Holland, Israel, Egypt, Greece, Malaysia and New Zealand.
Our fan club has grown to 128 cats, 60 dogs, a second parrot, 4 alpacas, a llama, a horse, a rabbit, 2 fish, 4 hens, a robin, two ducks, a pig and a goat! And we've added 3 more countries, Kenya, Norway and Sweden.
Our of our members, Willow, is hoping to find a fan club member from Australia for us. Meanwhile, we're hoping to fill in the missing states and provinces, as well as add a few more countries!
March 9, 2013:
Cats don't need clocks, so this weekend's change to Daylight Savings Time is confusing. I like that I can still enjoy outside views from all the windows later into the evening, but it also means Bobbi gets up later, which delays my breakfast!
Right now, the only thing I see out of the windows is SNOW. There's a huge pile on the front lawn, where the children have made a great slide. And in the back, everything is white and boring.
I'm waiting patiently for the birds to return. Meanwhile, Bobbi saved a CBS Sunday Morning "Moments of Nature" featuring songbirds, and she replays it on the PVR for me once a week.
The upcoming Broadway production of Truman Capote's Breakfast at Tiffany's held an actual cat call, auditioning felines to play the role of Holly Golightly's beloved kitty, Cat, at the Cort Theatre. The role requires not only an animal that can handle lights, microphones and an audience, but also one that can cross the stage, sit, stay and exit on cue. Eight cats auditioned live. Read about it here: http://tinyurl.com/bgndgrt
March 2, 2013:
EXCITING NEWS! The Rock Cats who perform as part of the Acro-Cats show have joined our fan club! They include Pinky, the lead guitarist, Dakota, the drummer, and Nue, who plays piano and synthesizer. Their leader is Tuna, who has appeared in several movies. She's the mother of the other three, and was the trainer's first cat. Before that, she owned The Rat Company: Trained Rats for All Occasions.
February 23, 2013:
My photo at the keyboard (see above, right) won an Honorable Mention in the You Ought to Be in Pictures contest held by the PETroglyphs newsletter. His photo appears on page 19 of the March issue.
That newsletter also contained an article about performing cats who live in Chicago. I'll be writing about The Acro-Cats soon. We just joined their Fan Club, and hear that they give actual performances on musical instruments, as opposed to my Virtual MEWSical Society.
We'll have The Mystical Cat on our Cat Book Favorites page soon, but wanted to give you a sneak preview this week.
February 16, 2013:
Did you realize that we have some Human Advisors in our MEWSical Society? One of them (Debra Hulley) went with Bobbi to see a play at GCTC this week, where another of our advisors (John Koensgen) was one of four actors who received rave reviews. The play was God of Carnage, and it was put on by Third Wall Theatre, who often rents space at GCTC.
Bobbi has known John for more than 30 years, ever since the first Simon Teakettle became a patron of GCTC.
John helped choreograph the fight scenes in our very first Virtual Production, Peter and the Wolf, and was enlisted again to help teach the Pirates in Peter Pan.
You can see the entire cast lists of both Snow White and Peter Pan, in which our Real Parrot (Mrs. Doyle) plays Captain Hook's parrot.
February 9, 2013:
I don't know about you, but I get pretty Bored in when my Favorite Windows are frosted over and it's too cold outside for the birds and squirrels I like to watch. One thing we do to counter this is to watch TV. Last week we saw a program about squirrels by David Suzuki. That was fun!
I see I missed National Answer Your Cat's Questions Day. It was in January. I have a lot of Things Humans Do that I'd like someone to Explain. One of the most popular pieces in Mewsings/Musings is Grow Your Own Fur Coat, which first appeared in CATS Magazine. Tiki (my predecessor, who was the co-author of that book) described his scorn at how inefficient humans are in taking care of themselves.
I've gotten used to Supervising Bobbi's showers from my perch on top of the clothes hamper. All that Water! All those Things in Bottles! All those cloth things called Towels!
I try to do my part by washing the fur on her Indian Mocassins.
February 2, 2013:
This is a busy weekend! It's Goundhog Day, something I've never understood. Why should this silly animal be credited with predicting the weather? And who could have possibly expected the winter we've had this year?
Thank goodness it's cold enough to keep the Rideau Canal and ice sculptures frozen for the beginning of Winterlude, Ottawa's wonderful February festival.
But we also have to remember that February is Responsible Pet Owners Month, which is really important, as well as Cat Dental Health Month, which I try to ignore. Actually Bobbi puts some liquid in my water bowl and sprays another one on my food, both of which are supposed to keep my teeth in good shape.
I think that, with Valentine's Day coming up, I need to point out the importance of being polite. I don't know about other pet owners, but Bobbi always says Please, Thank-you, and Excuse me. Who wants someone to shout at them all the time. Who do they think we are - dogs? Cats don't come when they're called, unless they want to. And if Bobbi says Please when she wants me to do something, and then Thank-you afterwards, I'm much more likely to behave.
We do have occasional problems with stools, which I feel ought to be belong ONLY to cats. But when she says Excuse me, please, I usually give in.
January 26, 2013:
Ottawa broke a record last week, becoming the coldest capital in the world, with temperatures lower than Siberia, Norway, and the Arctic! There was a frostbite warning, and I pity any pets who go outdoors!
Here's a picture Bobbi took of my trying to peer out of the office window, which is completely frosted over. You'll notice, by the way, that there are wooden name decorations on the windowsill, which Bobbi had made for Tiki and herself many years ago. I'm waiting for someone to create a special sign saying "Terzo"
Bobbi took another picture of me on the windowsill in the bedroom. It overlooks the back yard, where snow had piled high on the birdhouse, and my new pink bird (a Christmas gift) is sharing the windowsill with me.
We're waiting for three new members of the Fan Club from Kansas. Their mom is currently visiting Darlene and Aimee in Massachusetts, and will send photos as soon as she returns to Wichita.
January 19, 2013:
We've just been joined by three cats from Maine! After reaching my goal of 100 cats in the Fan Club by the end of 2012 (we're now at 113), I've set a new goal: filling in all the missing states. We're at 27, so are already more than half way to 50.
Meanwhile, some of the newer members of the MEWSical Society have sent pics of funny poses. Nemo is hiding under the rug, and Musetta is asking for a belly rub. I like to have my belly rubbed, too, and it's one of the only times I purr loud enough for Bobbi to hear.
Someone wrote to us over the holidays, asking how I justified the time and attention Bobbi gives me. She sent them the following List:
1. I provide a Fur Rug to keep her feet warm.
2. I lick her fingers when I thinks she needs Attention, even if she doesn't have a treat nearby.
3. I purr to let her know that Somebody Loves Her.
4. I approve of all her Choices, no matter how Weird.
5. I help her maintain Our Website and have worked hard at getting more visitors by attracting lots of Fans.
6. I provided some neat Christmas cards for her to send this year, by lending my Adorable Presence to the Great Canadian Theatre Company holiday card.
January 12, 2013:
I've put off making New Year's Resolutions as long as I could. But I just read Amy Shojai's blog, where she suggests that The Magical-Dawg stop amputating teddy-bear ears or stealing cat toys (which she claims results in sparkly poop). She also wants Seren-kitty to stop sitting on top of Amy's laptop when Amy's Actual Lap isn't available.
I may have to adopt a similar resolution, because Bobbi just bought something called a Tablet. It's a very small computer, and I'm hoping she bought it for me to use, and not to compete with Yours Truly for space on Her Lap!
I do have two Actual Resolutions. One is to ask Bobbi first before I pull any tissue paper out of gift bags under the coffee table. It turns out the one I attacked Christmas week was not for me, but for Someone Else. How embarrassing! (See photo beside Dec. 29 blog entry, below).
My Second Resolution is not to lose track of any of my Mousies. They tend to Go Missing, although Bobbi insists that I forget that I hid them in the closet or under the guest room bed. I decided this Particular Mouse needed my protection. As you can see, I have Very Big Teeth to scare off any Predators.
January 5, 2013:
Mewsings/Musings is the featured book on the Writers-Editors site, for the first two weeks of January. The specific URL is http://bit.ly/T7sSPH.
This page includes an interview with Bobbi about how she and Simon Teakettle II (Tiki) wrote the book, and includes the photo of me on her lap that our friend Shannon Lee Mannion took. Since then, I've learned how to pose for the camera!
Bobbi was also interviewed for an article in the January issue of Canadian Health.
And she's just signed with a speaker's bureau run by Randy Ray. One of the presentations she'll offer to Ottawa-area audiences is called My Cat Capsized My Career. This is the story of my predecessor, the first Simon Teakettle, which she told on Animal Planet in 2002. It was what prompted U.S. Business Week to call me the cat who owns the company, and to be quoted in the MSNBC Creature Comforts column, picked up by NBC websites in 10 major U.S. cities.
---
In case you missed the last few entries from 2012, here they are:
December 29, 2012:
We're in the middle of The Twelve Days of Christmas, so I thought I should remind you about my poem, which appears in Mewsings/Musings, and which caused a Lovely Lady from Fergus, Ontario, to create this magnificent wall hanging after she heard my poem on Basic Black on CBC radio.
You can see her name, E.P. Brown, which she added to the centre. She created this entirely from needlepoint, with a centre mat surrounded by 12 coasters, so it could be used when entertaining.
But Bobbi worried that it might get dirty or damaged, so left it intact and put it on the wall of our office.
I'm happy to report that I had received Lots of New Toys in my Christmas stocking, so I guess Santa received my letter and decided to forgive me.
Whew! That was close. Now I have to work on New Year's Resolutions.
December 22, 2012:
I postponed by letter to Santa this year, because I didn't know how to explain the photo at the right. But I can't wait any longer, so here goes:
Dear Santa: I'm a Very Good Kitty, and am almost never Naughty. So I hope you'll understand What Happened in the living room two weeks ago.
Bobbi had begun to put Christmas gifts under the coffee table, and one contained Sparkly Tissue Paper that I'd never seen before. I just couldn't resist! At first I just touched it, but some of the Sparkles came off on my paw, so I pulled more paper out of the bag, it began to Shred under my Claws, and you can see What Happened after that!
I didn't mean to be Naughty, and tried to hide the Shredded Paper under the Christmas stocking and toys I had been given to play with earlier. But as you can see, that didn't work Very Well.
Bobbi wasn't Mad at Me, but told me I would have to Report This Transgression to you. Meanwhile, I just read the story about my friend, Seren Shojai, who got into Far More Trouble in Texas when she was a kitten. It also involved Sparkles. Read it in Amy Shojai's blog.
So, Santa Dear, I hope you won't hold this Minor Transgression against me. Please keep in mind that I'm Very Well Trained, praised by Amy and by noted broadcaster Steve Dale. They both commented on how well I Behave, how I Sit Up on command, give One Paw and then the other, and even offer Crossed Paws. You can see all this in my Video.
I don't want an Important Gift, although one wrapped in that Sparkly Tissue would be Most Welcome! I just want a bag of Temptations' Treats, a bit of catnip, and a few New Toys. I also need more of those plastic jingle balls I like to chase. Yours Truly, Terzo
Here I am, celebrating the New Year.
This photo is also in my new Perpetual Calendar.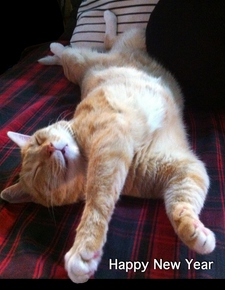 Stanley, a member of my MEWSical Society,
after his New Year's celebration in New York.
---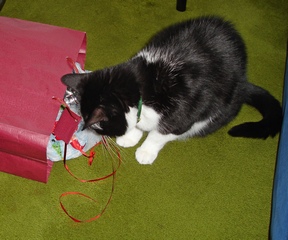 Searching for my present inside the bag.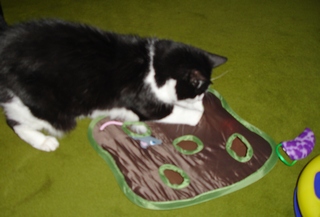 Pouncing on one of the holes to reach the toy inside.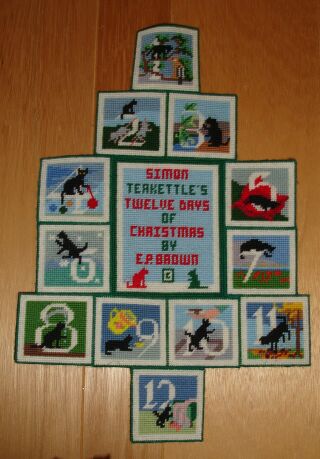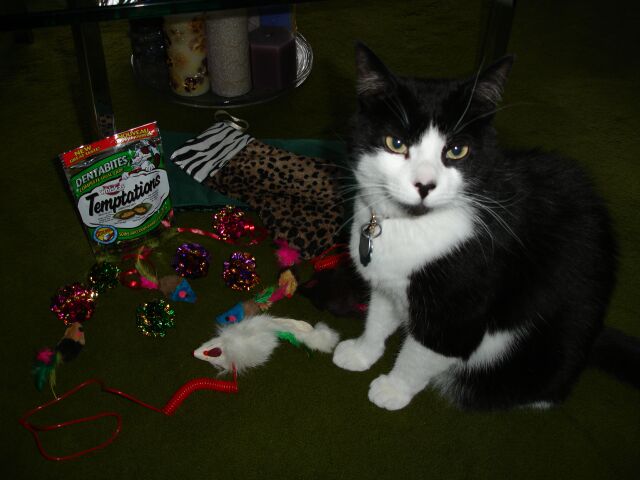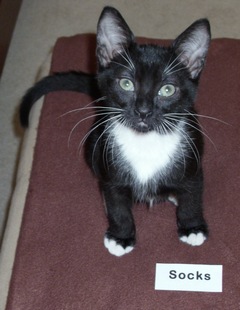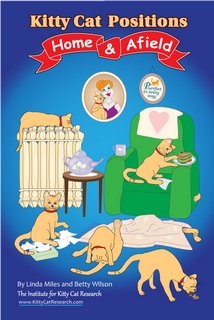 Spay/neuter and animal rescue groups
benefit from purchases from the
Institute for Kitty Cat Research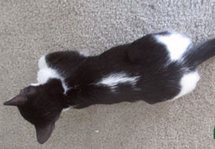 Sneakers Kundurazieff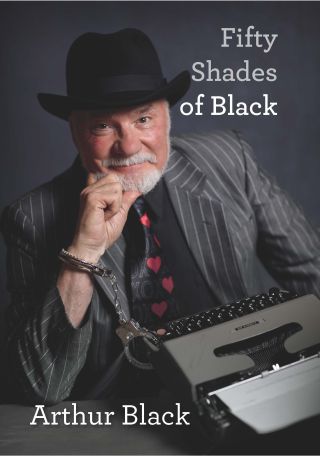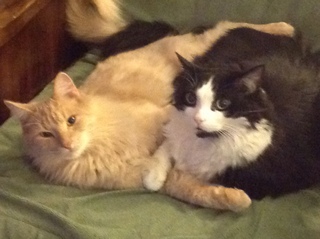 Ozzie & Kitters Kerr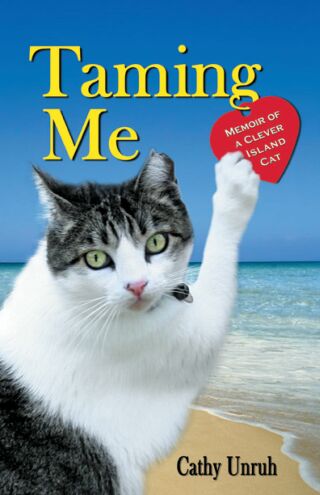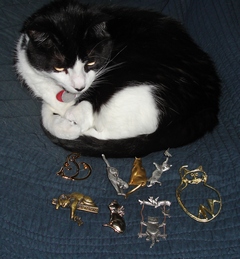 Surveying Bobbi's cat pins. She needs
to get a black and white one!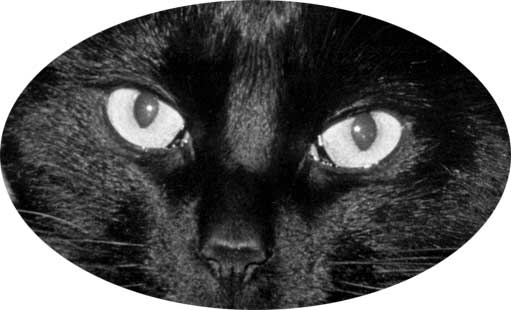 Tiki's mesmerizing eyes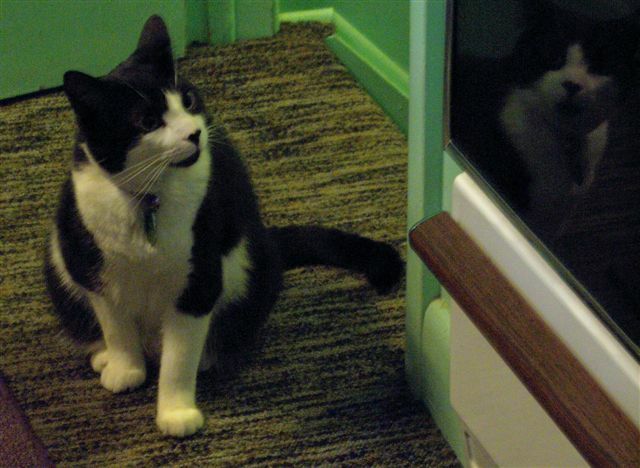 Terzo as a kitten, discovering his reflection.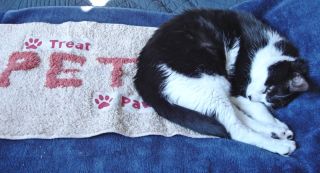 My Knitt model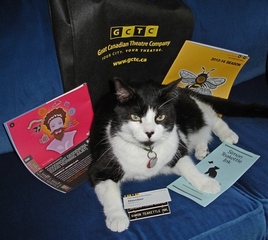 Terzo posing with his GCTC tote bag,
season brochure, his member card and badge.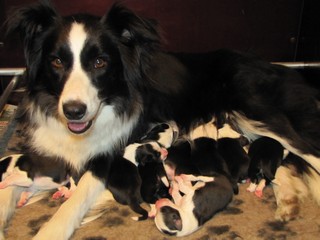 Paige Dieterman with her eight puppies.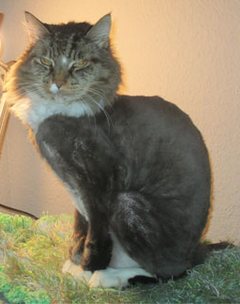 Nikita Kundurazieff, who runs the
Opinionated Pussycat blog.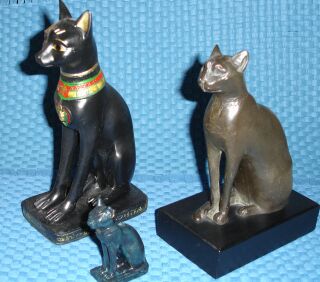 Three statuettes of Bastet which sit in different
spots in our living room.
Terzo learning how to play Scrabble as a kitten.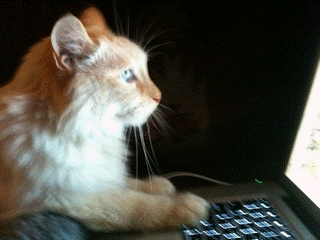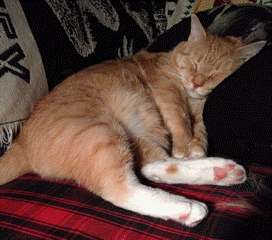 Stanley, asleep in tthe New York City
apartment he shares with Susan Haskins.
Stanley is a member of my MEWSical Society,
and brought us our first member from
Malaysia.
Here I am, on my shelf in the guest room window,
beside the Capital Cats calendar Aimee Britten
created last year. My Big Mouse is on one side
of me, and Chummy, my Guard Dog, on the other.
Here I am, sitting pretty, on the back
of Bobbi's recliner. The tags on my
collar are my name tag, my microchip
tag, and my 2013 Gatineau license.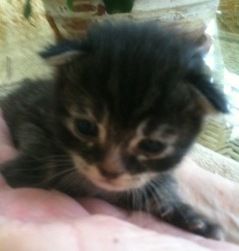 Little Mickey Robinson, eyes just open.
See him full grown on the Fan Club page.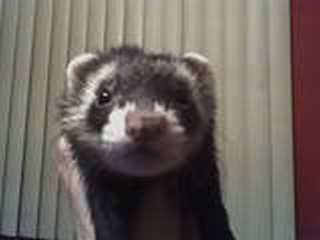 Debbie Manero, star of her own book.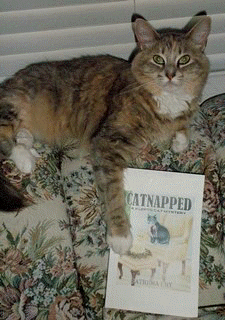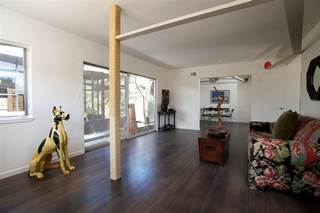 Talbot Wolverton, showing how to handle Florida's heat.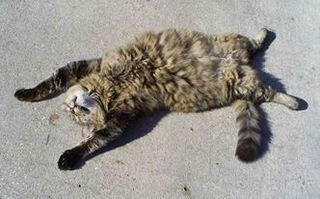 Is Jacqueline flirting with me?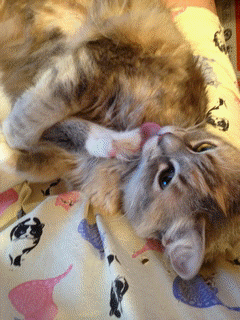 Lily Fry, from our MEWSical Society,
giving herself a pedicure.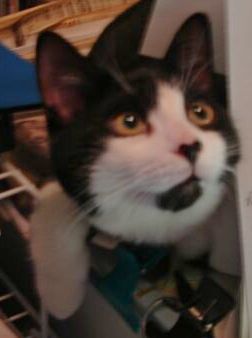 Peeking out from one of my favorite
hiding places.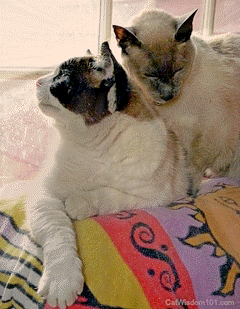 Domino & Merlin Morgan Wilde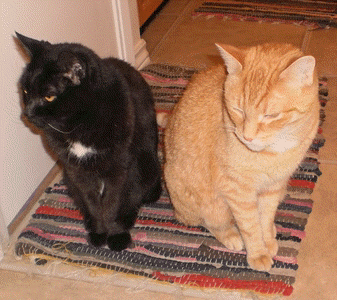 Sammy Teakettle with his new brother,
Mickey, learning how to get along.
Jacob Stowe, perfecting his
microphone technique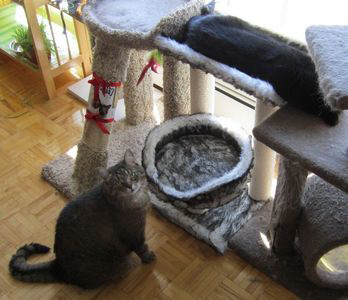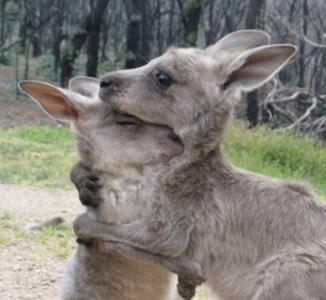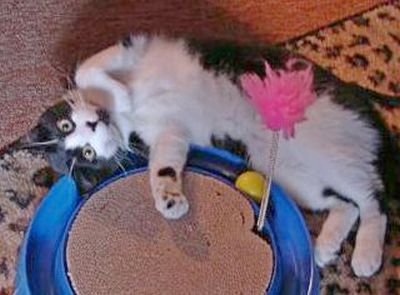 Terzo, above, and Pluskat, below: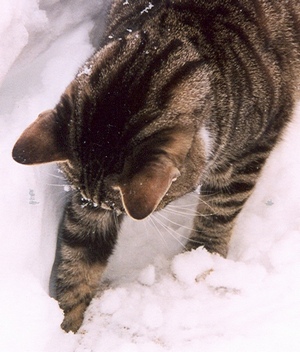 Mrs. Doyle, perfecting her drumming skills for
my MEWSical Society: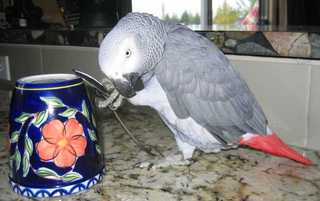 Mrs. Doyle in the shower, preening before a
virtual performance: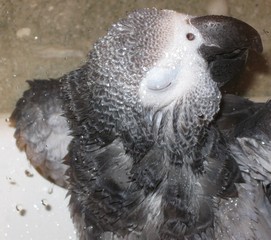 Here's Nixie Rainbolt, who just joined my fan club, playing with one of my favorite toys: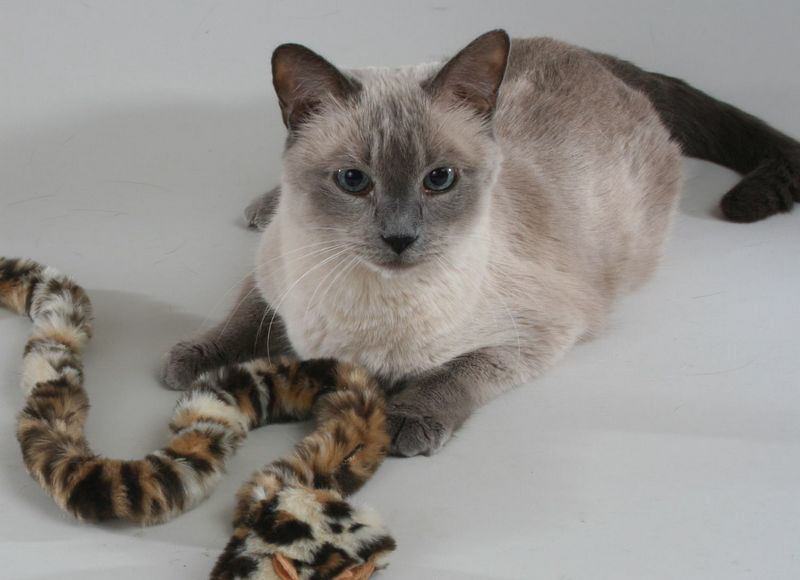 And here's Max Marano, reaching for a toy.
He and his sister, Callie, are our first members
from New Mexico.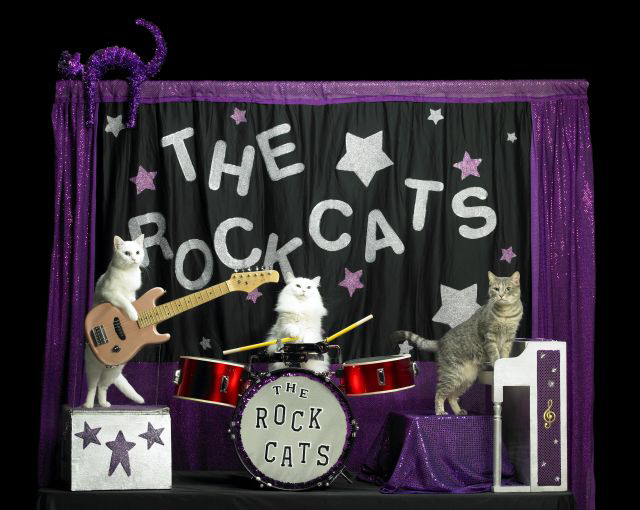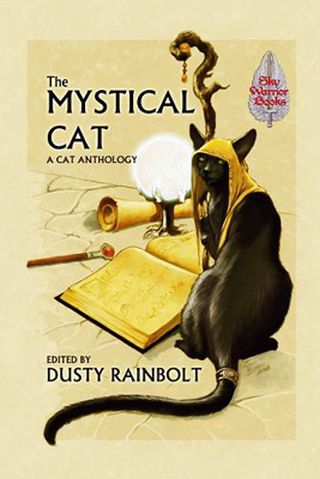 Some of our fan club members
are in this great new book.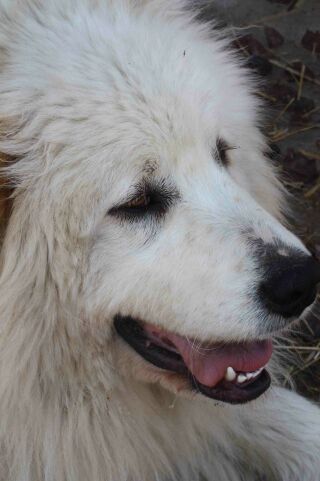 Sadie Katz-Couvrette as Nana,
the Great Pyranees protector of
the alpacas and llama who make up
the Camelid Chorus in the
MEWSical Society.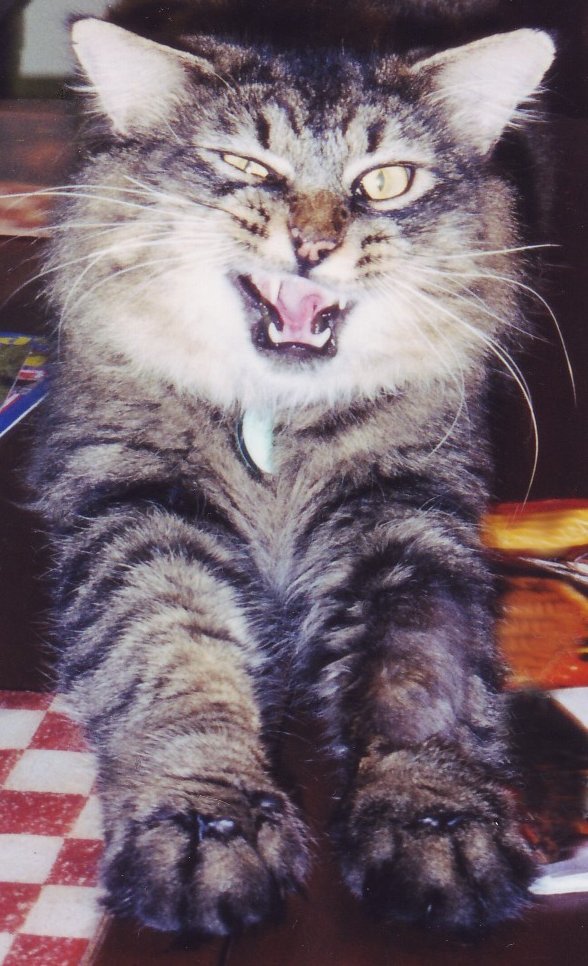 Bigfoot Stowe is a natural to play
the Crocodile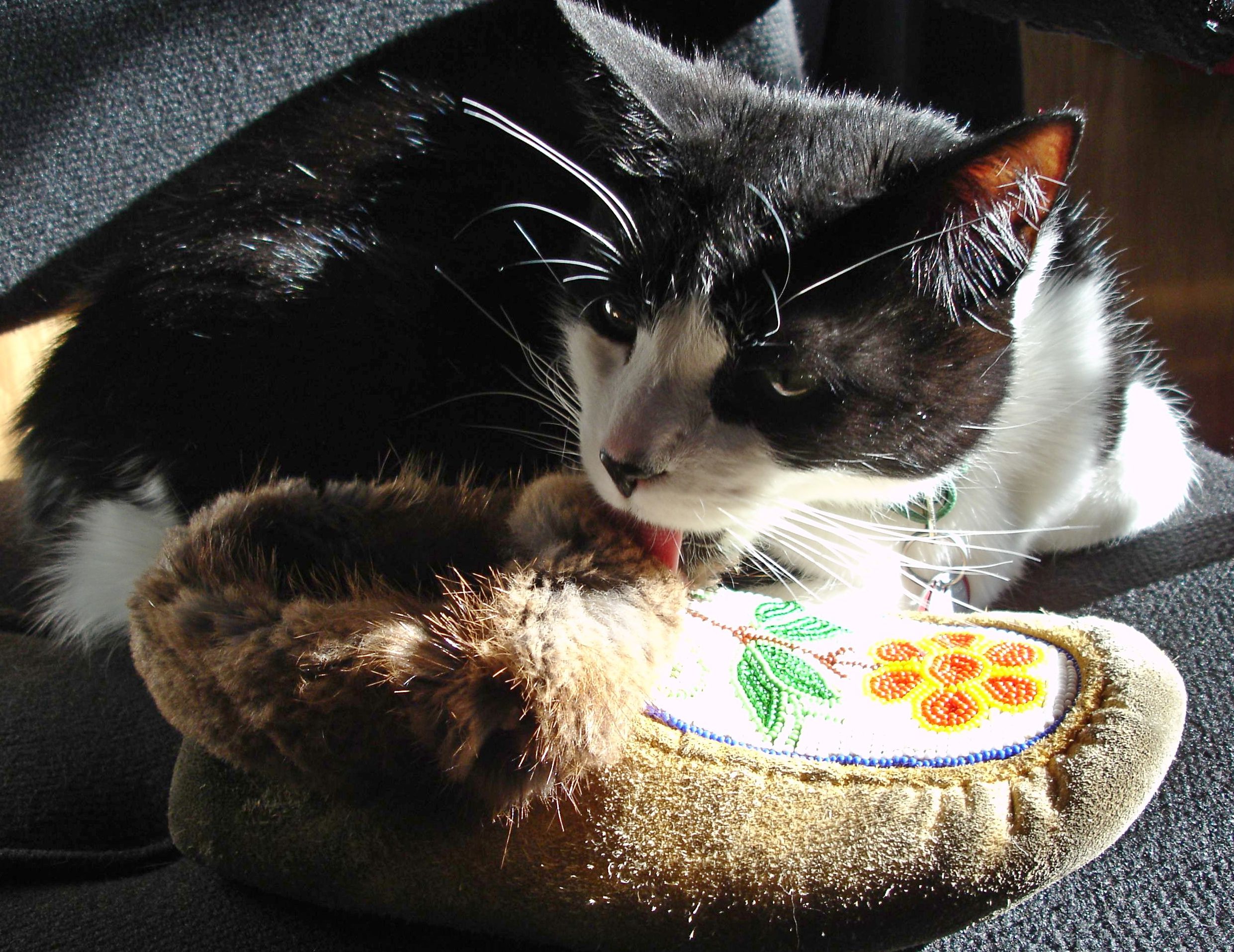 These slippers were made for Bobbi
by Violet Fiddler in Sandy Lake.
Below, a better way to Weather a Snow
Storm: Bailey Russo reading.

Holding the baby lion, and then,
below, one of my favorite mice.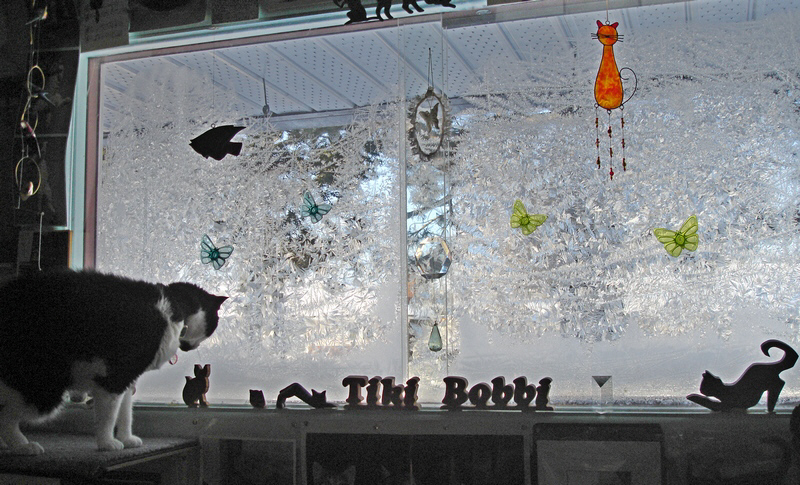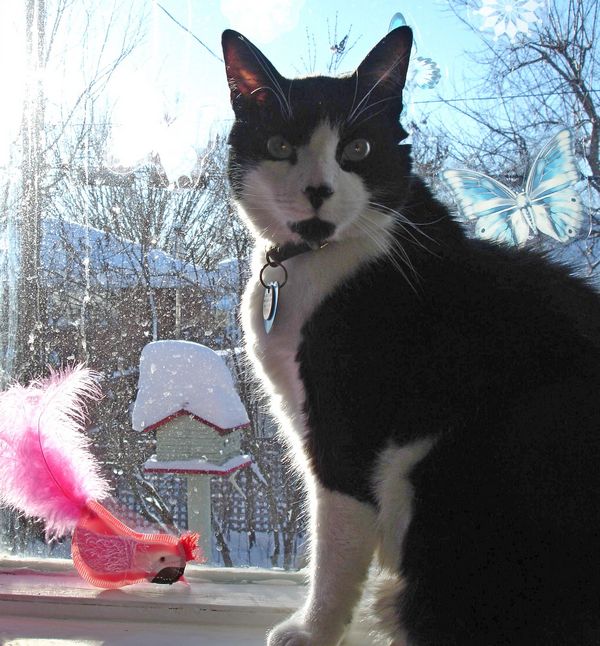 Nemo Kladnik, hiding under the rug.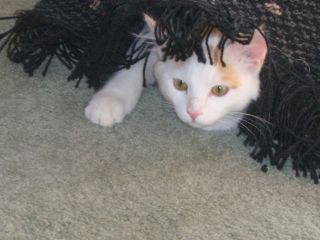 Musetta Simon asking for a belly rub.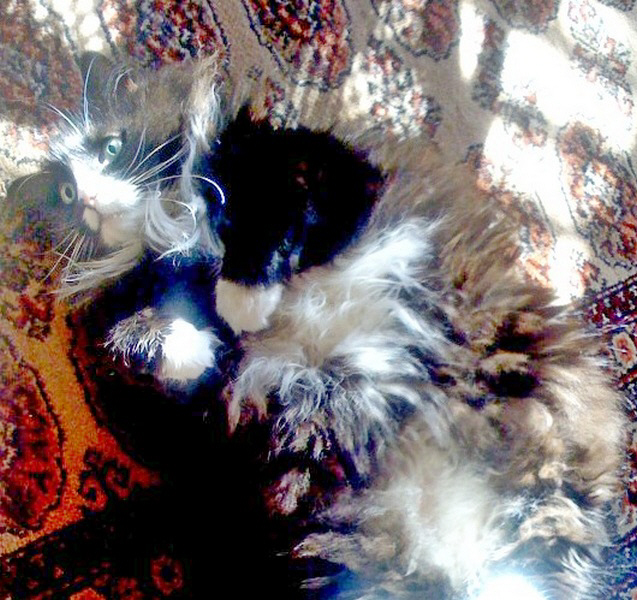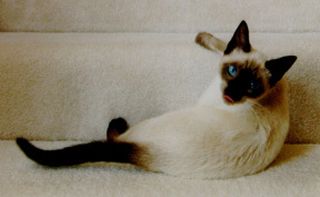 Seren-kitty sticking out her tongue,
and Yours Truly, showing mine.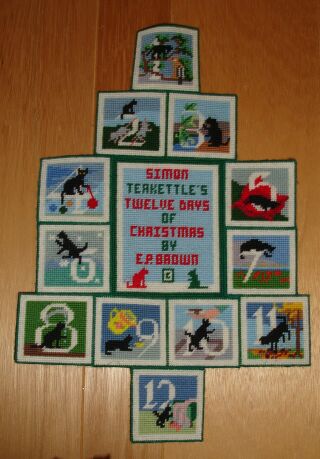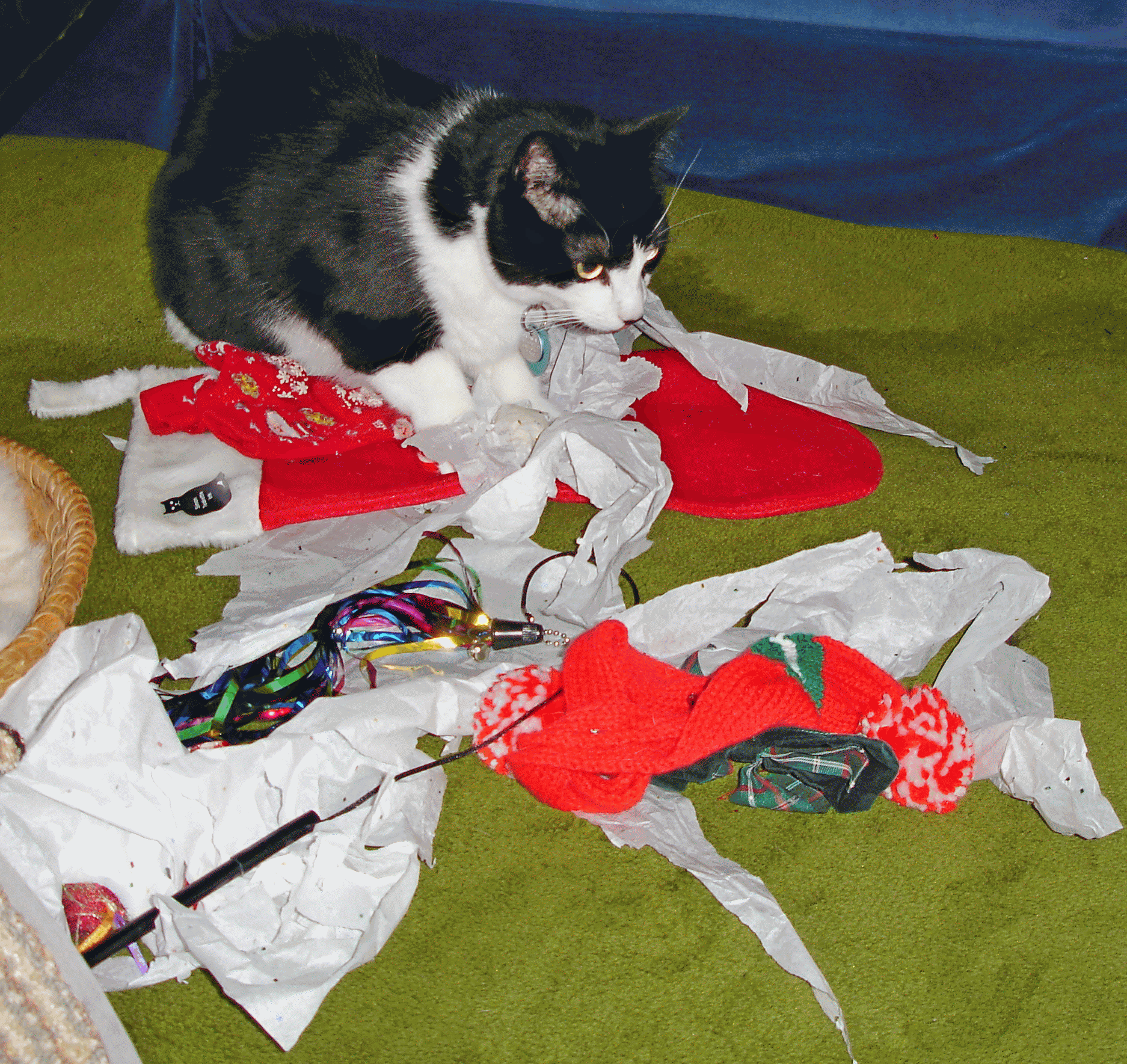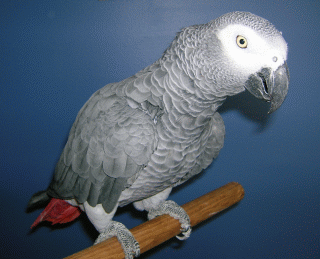 Charlie Miccio, lives in Felton, Delaware, with
five Tibetan spaniels.
---
Gabby Si Kucing Gedikz,
who lives in Malaysia.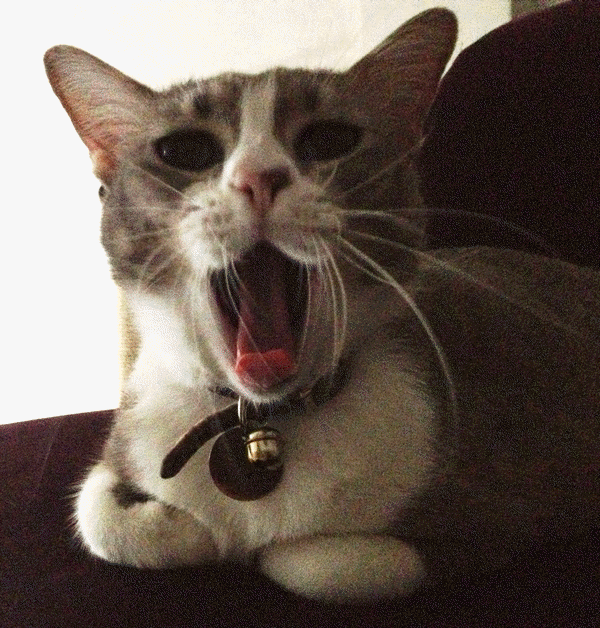 We have our first member of my MEWSical Society from Malaysia! Gabby is also our first Malaysian
fan club member, bringing the number of countries
to eleven, on five continents!
Gabby send this PURRsuasive audition photo,
hoping to snag a spot on the newly-revised Society
page. A photo of Gabby stretched out on the balcony of his apartment in Kuala Lumpur is on the Fan page.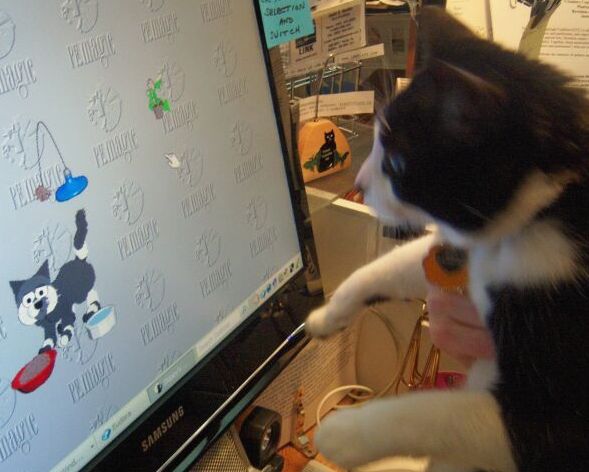 ---
---
---