Georgina & (Joshim) Kakegamic:
Robbie & Annabelle Kakegamic
Jordan
2 children
Janna
Jaden
Josh
Tyler
Tristen
Harmony
Roberta Machimity
Trinity
Clark
Stephany Machimity
Dre
Drake
Drury
Reagan
Violet & Morris Fiddler:
Peter
Gunther
Serenity
Brennen & Jenna
Zendaya Adley Gott
Schenley
Tonya
Adrian & Loretta
Kordell Eagle Scotty
Kade Trenton Allan
Rhea Koralee Violet Rose
Reyna Latisha Angie
Raylee Brittney Tiana
Kastle (given to Loretta's brother)
Fred
Evelyn & Gordon Tait:
Oliver & Ann
Tobey
Sadie
Dave
Diamond
Gordon Casey Jr.
William
Tommy
Taidon
Jayden
Renaiya
Tom Jr.
Shairose
Marsena Adelaide Brenda
Casey
Teonna
Chastity
Jewel
Marcel
Lincoln Desmond
Cherisse Glenna Pearl Loon
Joe & Emily:
(Roland)
Tamika
Darryl
Tamara
Rose Marie
Hailey & Avery (twins)
Kato Colin
Derrick
Candice
Jemima
Pierre Beardy
Isaac Beardy
Paul & Mary:
Leslie & Nash Crowe
Darien
Wyette
Ava
Cheyenne
Kaiya
Romaniuk
Lindsay
Kolton
Aaliyah Hope Adelaide
Jay
Tiarra
Briere
Mailka
Sagabun
Islynn RedCloud

Norris & Nida
Kevin (Kevo)
Bure
Addison
Scarlette Arissa
Kirk
Pierce
Truxton
Quinn
Kirsten
Nora Jane:
Angelina
Gabriel Kakepetum
Mervin Meekis
Ezekiel
Phoenix
Jared Meekis
Rozlyn-Jaye
Jazzlyn
Scott Meekis
Hawkins
Jerricka
Scott Elias Daniel

Donna Marie Brunton:
Terilynn & Brandon Goodman
Malakai
Matthias
Matthew
Randall
Hayden
Zoey
Tyler
Dylan
Taylor
Eden Mawakeesic
(Delilah) & (Roger):
Miriam
Titus
Islynn Redcloud Shey Kenequanash-Meekis
Richan & Mark Fiddler
Lammar
Bryce
Otis
Fredrick
Fraser:
Adrian
Luke
Farrah
Luke Jr.
Brayden
Kurt
Trenton
Zachary
(Brody, died, age 4, in 2014)
Miss Makara
Makenna
Charlie & Heather:
Leta
Adelaide
Kaleb

Elton & Sharon
Kaitlyn
Memphis
Isaiah
Misty
Brent
Everett
Jakob
Stephanie Charity
Ishmael Thistle
Sophia Christina Marie
Owen Thistle
Jonathan Fiddler
Neebyn Meekis

---
Adelaide's parents: Titus and Mary Goodman

A photo of Mary, who lived to close
to 100 years.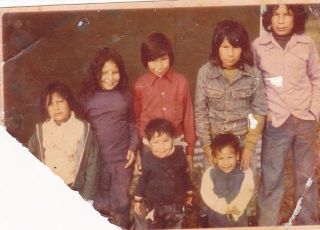 Another old photo of some of the Meekis kids. I'm guessing this was in the early 1970s, and the kids are, from oldest (right) to youngest, Joe, Paul, Norris, Nora Jane, Delilah, Fraser and Oliver.
| | |
| --- | --- |
| Sharing a laugh with family members. | Cooking outside. |
| | |
| --- | --- |
| Adelaide with great-great-grandchild, Jonathan Thistle. | Sitting on the ground near her house. |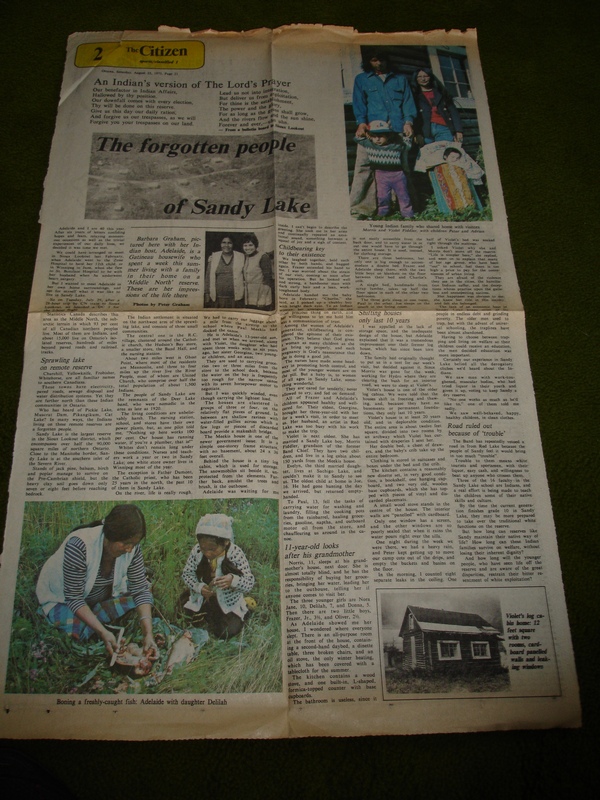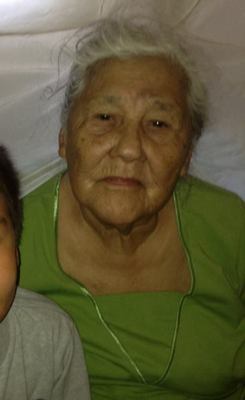 Adelaide Meekis, above & below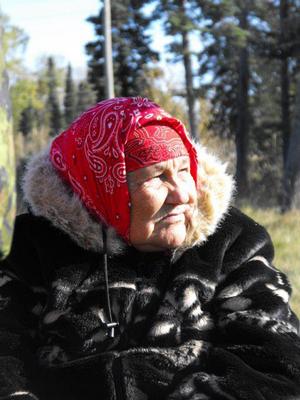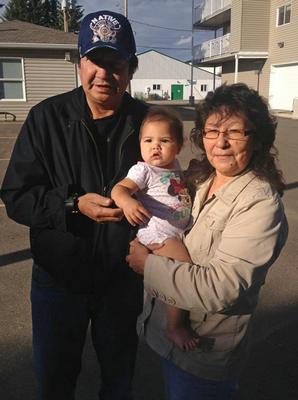 Morris & Violet Fiddler, with their first
great-grandchild, Serenity.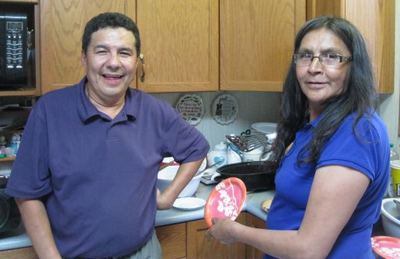 Joe & Emily at home in Sandy Lake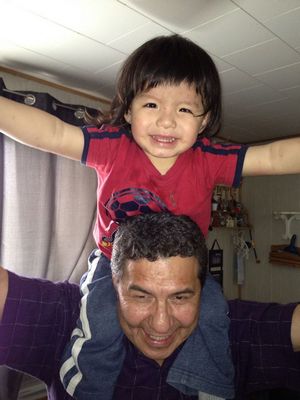 Joe with Pierre, son of his daughter Jemima.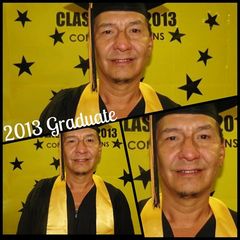 Paul's graduation photo.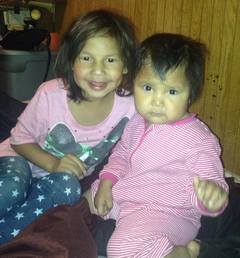 Two of Paul & Mary's grand-daughters:
Kaiya and Mailka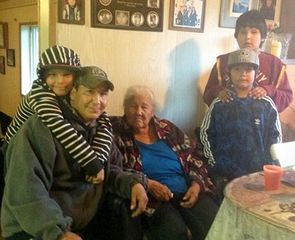 Fraser and his kids with Adelaide.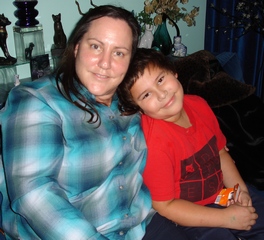 Heather & Kaleb, visiting Bobbi in Gatineau in Nov. 2019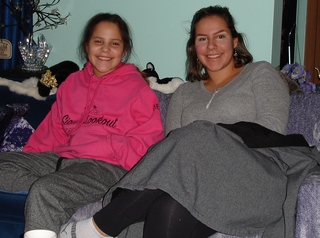 Leta & Adelaide, visiting Bobbi in Gatineau in Nov. 2019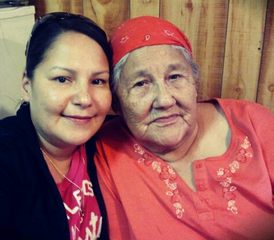 Stephanie Charity with Adelaide, 2014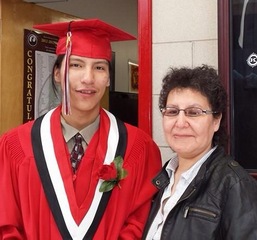 Nora Jane and Scott at his graduation.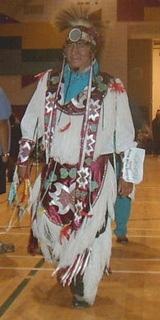 Peter in his Pow-Wow regalia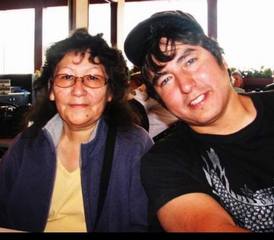 Violet and Peter, spring 2015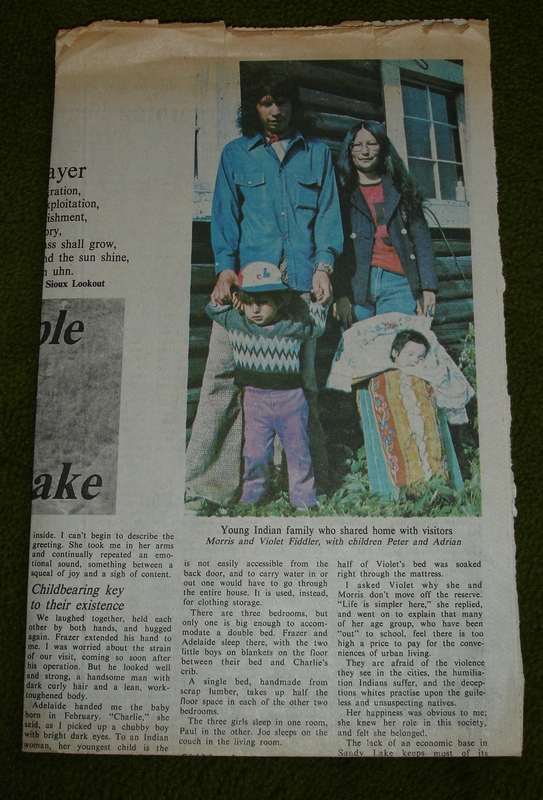 Morris & Violet with Peter and Adrian in
1975, from the article in the Ottawa Citizen.
On the left, the full page article in the
Ottawa Citizen, August 23, 1975. The same
article, with different photos, appeared in
other papers published by Southam News.
Here is one of the photos from the Vancouver
Province, August 30, 1975: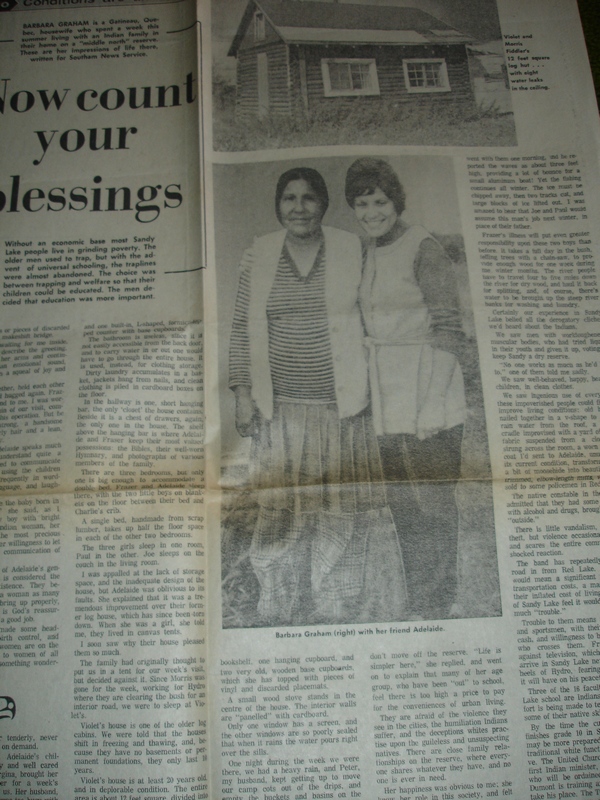 At the left, the article from the Ottawa Citizen
which Bobbi wrote about Joe living in Ottawa
while he attended high school in Ottawa. The first
semester he was joined by Doug Kakegamic.
Below is a close up of the photo. This article appeared
on Dec. 7, 1977.