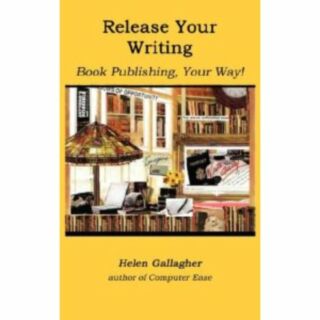 Release Your Writing:
Book Publishing, Your Way!
by Helen Gallagher
This is one of the most comprehensive descriptions of what it takes to produce a book that I've encountered. Gallagher covers all the usual bases, but because she's a computer consultant (the author of Computer Ease) she includes all the nitty-gritty about using your computer to format, index, create a Table of Contents, and create PDF files. She even demonstrates how to track your income and expenses using Excel spreadsheets.
Gallagher offers a useful comparison of POD publishers in a handy chart that shows everything from costs to royalties, explains why she chose to use a print-on-demand company and how she selected one of the better ones.
As a publishing consultant, I recommend this book both to first-time authors who need to be guided through the process, as well as those with more experience who may not be using their computers most effectively. I was surprised to learn quite a few things I didn't know, even though I've been writing on a computer since 1985.
Go to Helen's website to read her blog.