December 28, 2019:
This is our last post for this year, and for the decade! I've only been doing this for almost five years, but Terzo started this blog in 2006. It's been lots of fun to add new members to the Fan Club, pose for photos, and add lots of facts to our ever-expanding Facts pages. Just added new items to the Culture, Music, and general Facts pages this week.
Here are a few photos from Christmas, along with one of a deer snitching peanuts out of the chickadee feeder on Steve Pitt's property.
December 21, 2019:
Bobbi and I are eager to see the CATS movie. We love the T.S. Eliot poems (which Bobbi often reads aloud to me), and Bobbi saw the show on stage in New York, London, and Toronto.
We just heard that Jennifer Hudson, star of the new movie, named her two cats Grizabella and Macavity. You can see a very long list of cats belonging to celebrities on this website. See the link in the block just to the right, above the book logo and copyright statement.
I've been taking my afternoon nap in the living room, to keep an eye on my Christmas stocking. Bobbi has some of the special birthday cards she's been receiving on the piano, and a few gifts under the coffee table for her to open on her birthday (Monday, Dec. 23) and Christmas Day.
December 13, 2019:
It's Friday the 13th again. the last of four this year. But, as I've mentioned before, although our logo is a black cat (the first and second Simon Teakettles), we aren't superstitious. In fact, we think that black cats bring good luck.
It's time to share Simon Teakettle's version of The Twelve Days of Christmas, which appears in Mewsings/Musings. The poem was read by Arthur Black on his popular CBC radio show, Basic Black, and inspired one of his neighbors to create a fabulous needlepoint wall hanging. Here are the list of things in the poem, along with a photo of the wall hanging.
The Twelve Days of Christmas
by Simon Teakettle

On the first day of Christmas, my true love gave to me:
A chipmunk in a low tree.

Then:
Two catnip mice
Three fat frogs,
Four balls of string,
Five warm beds,
Six snowflakes falling,
Seven fishes swimming,
Eight faucets leaking,
Nine creamers dripping,
Ten dishes brimming,
Eleven leaves a-crunching,
Twelve laps a-awaiting,
December 7, 2019:
Did you know that Alabama was the first state in the United States to officially recognize Christmas? That was in 1836, and Christmas wasn't declared an official holiday in the United States until June 26, 1870. Oklahoma was the last U.S. state to declare Christmas a legal holiday, in 1907. Also, Franklin Pierce was the first U.S. President to have a Christmas tree in the White House, and Hallmark introduced the first Christmas card in 1915. But Jingle Bells was composed in 1857 by James Pierpont.
These, and many more facts about Christmas are on our Facts page. At the bar at the top suggests, you need to scroll to the bottom of the page to read these.
We've been asked how we get all the material for all the Facts pages, which include info about Culture, Music, Art, Literature, Inventions, History, Food, and, of course Animals. There's also a separate Cat Facts page.
Bobbi gathers interesting information from various sources, including the National Geographic History newsletter, Delancey Place, and the CBS program, Henry Ford's Innovation Nation. Many facts about birds and other animals come from Steve Pitt, who contributes wonderful photos to the Fan Club page.
November 30, 2019:
I'm very excited about Christmas. Bobbi has been decorating, and I see my big red stocking, with curly ribbons I'm tempted to play with, is bulging, and sitting on the other end of the living room couch where I often nap.
I am a Very Good Kitty, so never touch things without permission. Unless nobody is looking! But I think this stocking is full of balls, which are my Very Favorite Thing to play with. I have lots of them, but these look bigger. We'll see... By the way, that grey thing in the top of the stocking is new. I suspect it's a surprise toy, temporarily holding my favorite cat ornament.
Bobbi took photos of my stocking, the decorations on the piano, and the kitchen table. Notice that the card on the piano is the one Terzo posed for that the Great Canadian Theatre Company sent to all their subscribers, sponsors, and friends.
November 23, 2019:
Some of you may know that Bobbi is an American. Although she's lived in Canada for 52 years, she was unable to become a dual citizen and didn't want to renounce her U.S. citizenship, so has remained a Landed Immigrant.
That means nothing to me, of course, because cats don't recognize borders!
But because Bobbi has family and friends in the U.S., we're sending Thanksgiving greetings to them this week. Canadians don't understand why Americans celebrate the harvest season so late in the fall, and so close to Christmas. The second Monday in October makes so much more sense. Decorations can be taken directly from farms and fields, the weather is ideal for travel, and fall color in the northest is at its peak.
We had a cold spell and some nasty weather in the past two weeks, but rain has knocked down most of the snow, and we're having some milder temperatures this week. I'll be watching for the pair of cardinals who have discovered the berries on the burning bush just outside our living room bay window. We saw the male recently, nibbling on the berries, and then returning with his mate.
A couple of weeks ago we including a photo of one of our marmalade pals, Stanley Haskins, sleeping on Susan's lap. We just received another one, of Ollie, who lives with our friend Elizabeth's daughter, but spends some time with Elizabeth when that family take a trip.
| | |
| --- | --- |
| | As you can see, Ollie likes to cover his eyes with his paws as he dozes! |

On the right, you'll see my Big Billboard, cleverly created by Bobbi
with a program called PhotoFunia.
November 16, 2019:
November 17 is Black Cat Day. Although I'm a Blue Smoke Tuxedo, we always pay tribute to black cats because the first Simon Teakettle was one of those rare all black cats without a single bit of white. Tiki (Simon 2) had a tiny white locket, and then Terzo was a full tuxedo.
It was during the Middle Ages in Europe that the reputation of black cats began to be associated with witches. The hysteria of witches practicing "black arts" had just hit Europe. Stray cats were often cared for and fed by the poor lonely old ladies later accused of witchery, and soon their cats, many of whom were black, were deemed guilty by association. It was even believed that witches could turn into black cats night to prowl the streets unobserved. This belief crossed the Atlantic with the first American settlers and was a family-held superstition in America during the Salem witch hunt.
To this day, black cats are often common in shelters because superstitious people don't want to adopt them. But as Bobbi learned after adopting Tiki, black cats are often really smart. That's because if a Siamese female in heat can't find a Siamese male to mate with, she'll chose a black cat. Tiki clearly had Siamese in his background, as he had the small stature and triangular face of a Siamese, as well as great dexterity with his paws and super intelligence.
He was the cat who represented Simon Teakettle in the Animal Planet video. Tiki also set the standard for both Terzo and Yours Truly, as we were encouraged to learn to do all the things Tiki did naturally.
The first Simon Teakettle, above.

Terzo (Simon III)
to the right.

| | |
| --- | --- |
| Here's Tiki sprawled on a white fur rug, and Yours Truly, holding my tail. | This photo of a black cat has been mistaken for a crow. |
November 9, 2019:
We had our first snowfall this week, so everyone is gearing up for Christmas. Stores are already filling their aisles with decorations and holiday goodies. So we thought it was time to suggest some Christmas books featuring cats as gifts for feline (and feline-loving) friends.
Rags is at his meowy best in Patricia Fry's Klepto Cat mysteries. In the latest, the Ivey family and friends share the deepest meaning of Christmas while on a mountain vacation. When ten-year-old Adam and his best buddy, Simon, inadvertently venture off on their own, there is no way their parents could know they're on a humanitarian mission. They are lost to trained searchers and their dogs, but Rags helps lead the rescue team to the boys and a secret that stuns everyone.
While the spirit of Christmas flows throughout this story, it's the touching gift-giving ritual the families share that will seriously touch you and maybe inspire you to open your heart a little wider this holiday season. This story is packed with suspense and a lot of kitty-cat action, along with some of the most heartwarming moments you'll experience all year.
Available at in print and also on Amazon at: https://tinyurl.com/yxdeyfxa.
If you order all three Christmas books directly from Patricia, you will receive autographed copies, a free set of Klepto Cat note cards, and a free bookmark.
November 2, 2019:
David Lennick, who hosted various CBC radio programs for nine years, is also an actor and record producer. He was the first to feature Simon Teakettle on the CBC, paving the way for Simon to be "interviewed" or mentioned on a wide variety of programs, including Basic Black, Gabereau, Morningside, Disk Drive, Cross Words, The Radio Show, and R.S.V.P.
On Lennick's popular midnight program, Night Camp, it became a tradition to phone Simon on the Hallowe'en show. David has been rummaging through boxes of memorabilia, and found a copy of the script for the show broadcast on Oct. 31, 1986, which you can hear at: https://my.pcloud.com/publink/show?code=XZokK8kZBrbbtYgclwRbNODvyf80VzKLJqg7
The interview is about 40 minutes into the show, after the long rendition of The Legend of Sleepy Hollow. The interview runs about six minutes. It was completely unscripted and unrehearsed.
Here's StanleyHaskins,
napping as he listens to the program.

While Penny , although relaxing in one of her
favorite positions,
is clearly paying attention.
October 26, 2019
Okay, so I've been pressured to acknowledge Hallowe'en, especially since October 29 is National Cat Day. So here's our Hallowe'en picture, along with a tribute to fall from our pal, Steve Pitt, who contributes so generously to the Fan Club. He managed to take a photo of a nuthatch taking peanuts out of his hand, as well as Canada geese flying over Lake Talon, with their reflection in the lake.
October 19, 2019:
Hallowe'en has become one of the most lucrative holidays for retailers, and evidence it everywhere. Our neighbors have pumpkins and spooky decorations on their porches, and the stores have aisles full of candy, costumes, candles, lights, etc.
Terzo used to love to dress up. I hate it! Bobbi thinks it's hilarious that her last male cat loved costumes and her first female one (for many decades) hates them. She's really tried, over the past four years I've lived here, but has finally given up.
So here's as close as we come. I don't consider the feather boa a costume, so you can compare me with Terzo in the same outfit. It's pretty obvious that he enjoyed this much more than I did. And here he is in his band costume, which he always wore proudly!
October 11, 2019:
This is Thanksgiving weekend in Canada. Bobbi will be cooking a stuffed turkey breast, but even though I enjoy chicken based cat food, I don't eat people food, so I'll just be enjoying the smell!
Fall color in this area is just about at its peak, so we thought we should share the Virginia creeper on the maple tree in our back yard.
Also, we added a really cute dog who lives in Ecuador in the Fan Club this week. His name is Patches.
October 5, 2019:
Yesterday was World Animal Day, and later this month we'll celebrate National Feral Cat Day, which is important to me because for the first year of my life I was technically a feral. I was a stray who lived outdoors until a nice family took me in for a while and then turned me over to a no-fill animal shelter, where Bobbi found me just a few days after my first birthday.
I always feel sorry for the older pets in shelters like that. October is Adopt a Senior Pet Month, and I hope that people realize that a cat who may be 5 or even 7 years old is an ideal companion for a lonely senior, and will likely live another 10 years.
Speaking of age, we used to think that most giraffes' spots darken over time, but new research indicates that the color of the spots may also display a male's physical condition and be used as a way to signal his competitive ability.
September 28, 2019:
We live in western Quebec, close to the Ottawa River, so the leaves are beginning to turn here. I love watching the squirrels as they collect pinecones and other goodies to stash away for the winter. We have a big pine tree just outside our office window, so keep the squirrels well supplied.
As you can read on the Animals page of this website, animals are much more intelligent than humans realize.
On the other hand, some animals are as badly behaved as humans. I heard recently about cats that snitched underwear from laundry baskets and clotheslines (I wonder how they manage to do that?), and dogs often swipe shoes and chew them.
I know how to hide things, and often hide toys I want to play with later in various spots, such as under furniture or in the closet. Terzo used to hide his mice in the closets, as it's easy to open those sliding doors with your paw. He did this to hide evidence that he had stripped the fur off the mouse, after which he would often play with the naked plastic body. Disgusting!
You can find Terzo's article, "How to Kill a (toy) Mouse" on the If You Love Cats page.
September 21, 2019:
The 74th session of the UN General Assembly is meeting in New York. Bobbi just found out that Virginia Gildersleeve, first Dean of Barnard College, was the only American woman delegate to the conference to establish the United Nations. Bobbi is a Class Officer for her class at of Barnard, and writes Class Notes for the quarterly Barnard magazine.
The global climate strike began early Friday in Australia and countries across Asia and the Pacific, and continued in Europe and Africa. Friday's event was the second mass climate protest this year. In March, more than 1.4 million young people around the world were inspired in large part by 16-year-old climate activist Greta Thunberg, who staged a solo protest in her native Sweden.
Thunberg has become one of the most well-known faces of the youth climate movement, and in recent weeks has appeared in front of Congress, spoken with former President Barack Obama and has plans to speak before the United Nations next week.
Bobbi does some work for Restco.ca, a Canadian company involved in sustainable development to mitigate climate change. Their blog contains excellent information on these issues.
September 13, 2019:
This is not only Friday the 13th, but a special Harvest Moon, the only one this small in 19 years.
Friday the 13th is also Blame Someone Else Day. This is particularly useful if you're a cat living in a household with dogs. Whenever something spills, or ends up where it's not supposed to be (like my toys under the furniture), the cat can sit in the hallway, washing her face, as if she had nothing to do with it.
Since people are still talking on TV about Hurricane Dorian, I thought I'd point out the the wild horses who live on the Outer Bank islands in North Carolina have figured out how to handle severe storms. They find a stand of strong trees and huddle together there, their butts to the wind. Other interesting facts about horses are on the Animals page, including that they are not only intelligent, but they use both sides of their brains to process information. This may be because their eyes point to the sides instead of forward. This is why they sometimes don't appear to see something to the right of them as the go up the road, but may react to it coming back.
Horses have five highly developed senses: taste, touch, hearing, smell, and sight. They also have an enigmatic sixth sense, heightened perception, which is very rare in humans.
September 7, 2019
The kids are back to school, and the new theatre season has begun. Orpheus is presenting the delightful musical, Falsettos, at the Gladstone Theatre, and GCTC is one of the hosts for the Prismatic Arts Festival, which showcases leading Indigenous and culturally diverse artists from across Canada in theatre, dance, music, spoken word, visual arts, film and media arts. These are the two local companies Bobbi has supported for many years. She continues as a member of the Publicity Committee for Orpheus.
We're still working on getting the new computer system to work the way Bobbi prefers. I was interested to watch today as Paul was both on the phone with Bobbi and also took remote control of the computer. That's beyond my understanding!
I'm more concerned about personal matters, such as finding things to play with, stretching, and crossing my paws over my tail.
August 30, 2019:
Last weekend our computer was gone, taken by our former neighbor so he could work on it. I have no idea what that means, but it was strange to have the big tower that sits on the floor (and sometimes makes funny noises) no longer there. Paul also took the laptop on the desk, that I'm not supposed to sit on. I know Paul and his oldest son, who came with him, because they both took piano lessons from Bobbi.
Monday night they returned, with the same laptop but a different big tower. I had to stay well out of their way as they got on the floor or the office to connect all the cords that I've also learned never to touch.
Everything is working fine (or so Bobbi tells me) but she has a bunch of questions, especially why the print on the screen is so small in all the programs. Cats have exceptional eyesight, so it doesn't bother me, but Bobbi isn't happy about it!
This weekend is Labor Day. Only stupid humans would come up with a holiday like that! I'm much happier that September is Be Kind to Edtiors and Writers Month. I don't believe in "labor" but I do have respect for writers and editors. We have many friends who feed their cats (almost all of them have cats) with money they receive by doing this kind of work.
And, of courrse, I'm a writer, too!
August 24, 2019:
It's hard to believe summer is almost over, as we've had such terrible weather. We had the hottest July on record, which is hard for anyone who has to work outdoors or doesn't have air-conditioning. We also had a lot of rain and many thunderstorms.
And now the kids are heading back to school. Bobbi just received her invitation to attend annual reunion at The Latin School of Chicago
offering her free admission to several events even though it's been 52 years since she was a member of that faculty! I'm relieved that she won't be flying to Chicago that weekend, as I don't like it when she goes out and leaves me alone for just a few hours, never mind for several days!
All the TV ads about going back to school remind me of our popular Facts pages. If you go to the main Facts page, you'll see not just many fascinating pieces of general information, but links to a bunch of other pages about film & theatre, music & art, history, food, inventions, animals, and, of course, cats!
We just added a bunch of new things today, about the invention of Kevlar, a female film pioneer, the largest denomination of U.S. currency, and how caviar was once served free to bar patrons because its saltiness caused them to drink more!
Cats are creatures of habit. I'm used to our regular routine, so this past week has been a bit strange. First of all, Don has gone fishing (I'm eager to hear all about that when he returns, and hope he brings me some samples!) so he didn't come yesterday as usual. Instead, our dear friend Juliana (who sent us animals for the Fan Club from her trip to India last year) came over to help Bobbi. I don't see her very oftne, so that was a bit strange.
She also took Bobbi out for a long lunch. That means Bobbi was out three times this week, to dinner on Tuesday with Theresa, and then again for dinner with Deb.
I always know when she's going out because she does that "stuff" in the bathroom, which involves sitting in front ot the magnifying mirror (I tried using it to inspect my whiskers once!). She puts things on her face and sprays smelly stuff on her body. It reminds me of the most popular story in Mewsings, called "Grow Your Own Fur Coat." That was the first of several pieces Simon Teakettle wrote for CATS Magazine, and in it he described being puzzled by how humans wash themselves, put on and take of clothing, and spend so much time that cats don't have to waste because we're able to wash with our tongues!
August 10, 2019:
The month of August is full of special days devoted to cats. As we mentioned last week, August 8 was World Cat Day. Next Saturday is National Black Cat Appreciation Day, which we'll be celebrating because the first Simon Teakettle was completely black, without even a tiny white spot, and inspired the logo for the company and the cover of Mewsings/Musings. More about that holiday next week.
Later in the month we have International Homeless Animal Day on August 20. I used to be homeless, so that day is special for me! Bobbi told someone just this week that the reason why I'm so well-behaved is that I appreciate having a home!
August 22 is Take Your Cat to the Vet Day, and August 28 reminds us of all those who have gone over the Rainbow Bridge.
August 3, 2019:
August 8 is World Cat Day.
As many anticipate the long-awaited movie based on the musical, CATS, others are enjoying the new version of The Lion King. Although both are delightful to watch, it's interesting to note that the musical based on T.S. Eliot's poems actually captures the actions of real cats better than the movie remake of the Disney classic.
Bobbi has seen CATS three times. The first time, she was invited by a friend who worked for Playbill Magazine to join him in the couple of dozen seats on the stage of the theatre, as the musical was performed "in the round." That meant Bobbi was not only very close to the performers, but could also glimpse backstage as some of the felines were preparing to enter.
She also saw productions in Ottawa and in London. So we're clearly fans, eager to see the movie!
She saw The Lion King when a touring production played Ottawa, and enjoyed it throughly, especially the clever fantasy jungle animals. Julie Taymor won Tony Awards for Best Direction of a Musical and for Best Costumes.
But Craig Saffoe, curator of great cats at Smithsonian's National Zoo in Washington, says this depiction of a lion family is inaccurate. Read more about this on our Cat Facts page.
July 27, 2019:
According to alleycat.org/ there are roughly 82 million pet cats living in people's homes just in the U.S., which doesn't count those in Canada. There aren't clear statistics about how many of these cats have been de-clawed by their owners. But after it was revealed how cruel this operation is, many provinces have banned the procedure, and New York State just passed a law making de-clawing illegal.
Rescue groups are alarmed. They feel the more people will abandon cats or fail to adopt from shelters because they don't want cats to scratch them or their furniture.
This reinforces the assumption that cats can't be trained.
I'm living proof that this isn't true. Bobbi wrote her award-winning article, How to Train Your Cat Like a Dog, based on her experience training Tiki, whom she adopted as a kitten. But I didn't come to live here until I was a year old, having been an outdoor stray for most of my early life.
So the fact that she has successfully taught me to come, sit, sit up, give one paw and then the other, roll over, give head butt "kisses" and understand many other words is proof that training works, not just intensive sessions with kittens who learn to perform elaborate tricks (like the AcroCats) but also with an older cat.
One of the first things I learned when I arrived in this household is the word "No!" It didn't take long for me to realize that I would be scolded if I attempted to scratch anything, to jump on tables or counters, or to touch certain things (like houseplants in windows where I like to sit).
From the beginning, Bobbi started to clip the sharp edges of my claws. At first, I only allowed her to do one claw at a time, but eventually I discovered that this procedure involved a lot of petting and was always followed by a treat. Now I "ask" her to do this, because sharp claws can be a nuisance, catching on the fabric of my scratching tunnel or the rope of scratching boards that hang on various doors.
Here I am, with my scratching tunnel, and giving my paw.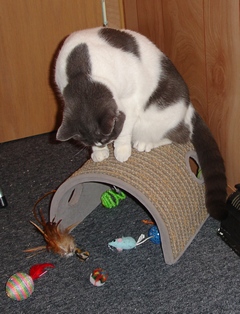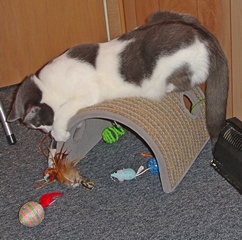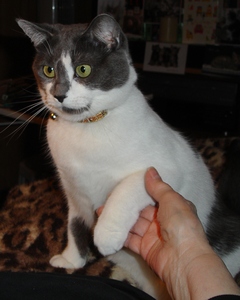 July 20, 2019:
This week Bobbi has been remembering Apollo 11 landing on the moon. She'll be writing about that on Facebook tomorrow, as that was the summer Violet Meekis came from Sandy Lake to spend several weeks here, celebrating her 16th birthday on August 3rd.
That started Bobbi's connection to Sandy Lake, where she visited in 1975. She's kept in touch with the extended Meekis family for 50 years, and we have many lovely beaded decorations and several stunning paintings that remind her of their talents.
I sometimes see the moon when I look out the window. But most of my window time is spent looking at birds and squirrels. I have a canine pal who shares my name and does the same from her apartment in Ottawa. Her name is Miss Penny Jennings, and she lives with the writer, Susan Jennings. Here she is, looking out her window, and a photo of her when she was first adopted last year.

July 13, 2019:
We continue to have a lot of rain, with many thunderstorms. I'm not afraid of many things, but thunder and
lightning send me to find Bobbi and make sure both of us are safe! Excessive heat and so much rain has kept
a lot of people indoors, so I thought it was time to share a series of delightful "cozy" mysteries featuring cats.
They've been written by our friend, Patricia Fry, and you can see all her books, with full descriptions, on her
website: https://www.fantasticfiction.com/f/patricia-fry/

July 6, 2019:
Bobbi's friend, Sandy Murphy, sent us an adorable photo of her dog, Ozzie, in cat ears. Sandy edits one of the newsletters Bobbi contributes to, from SPAWN (the Small Publishers, Artists & Writers Network). Although Bobbi now writes just about everything
on a computer, she has a large collection of special pens. Here I am selecting one to make notes for this blog.
June 28, 2019:
I was a bit confused this week, as we had two fierce thunderstorms, with thunder and lightning, and at first I thought someone was celebrating Canada Day early! I actually enjoy fireworks, but only on TV. We'll be watching the show on Parliament Hill Monday evening, as well as two celebrations on the Fourth of July. One comes from New York and is sponsored by Macy's. Those fireworks are set off on the Hudson River and are spectacular. At the same time Bobbi will record A Capital Fourth on PBS, and we'll watch that after the NBC program.
All the rain that keeps drenching us has helped the flowers flourish. Here's a photo of the petunias along our driveway. You can see what's left of the Siberian Iris, but they didn't last long in the heat and rain!

And here I am, in my favorite spot on the couch in the living room,
holding my back foot and my tail. Why? Who knows?
June 22, 2019:
Bobbi continues to take pictures of interesting things that belong to me. Here are the coasters that sit on the coffee table in the living room, which were created from photos of the first Simon, Tiki (Simon Teakettle II), Terzo (Simon III), and me. These were a gift from Sylvia Adams, a prize-winning poet Bobbi met for dinner just last week.
| | | |
| --- | --- | --- |
| | Then she decided to take pictures of some of our collection of tuxedo kittens. So there are Kittens on the (piano) Keys, and Kittens on the Keyboard. | |
June 15, 2019:
After Canada phased out the penny, Bobbi kept a bunch of shiny new ones in honor of my
name. But she had collected pennies from every year for a long time, and has a "book"
containing one for almost every year of her life.

June 8, 2019:
I spend a lot of time watching birds at the front feeder, which is right outside the office window where I have a comfortable carpeted shelf. But most of the birds who visit us are common species, such as the tiny sparrow there right now.
We do get a few cardinal pairs in the back yard, and every so often blackbirds or blue jays.
But Steve Pitt buys specialized seed for his feeders, and since he's on the shore of Lake Talon, close to dense woods, he gets a wider variety of birds than we do.
He recently had a new visitor to his hummingbird feeder, a Baltimore Oriole. We've added her to the Fan Club this week, as well as an Indigo Bunting.
Meanwhile, since it's still cooler than normal for June, I'm spending more time curled up in my fur bed. Note the special pillows behind me, that fans sent to Simon Teakettle when he was on CBC radio quite often. And you'll see that I have one eye open, just to watch Bobbi as she approaches.
The other picture is of a tiny tuxedo curled up on a piano. I'm not allowed to do that!
June 1, 2019:
I mentioned adding to the Fan Club last week, and now can share some wonderful photos our pal, Steve Pitt, took on a recent trip to the Azores. He photographed Old World Sparrows, who were brought to North America where they became one of the most widespread and abundant songbirds in the world today. The most common is the House Sparrow.
One of the things we learn whenever Steve sends us photos is how varied wildlife is. There are 17 species of penguins (we have three in the Fan Club), and 18 species of seals (again, we have three). But there are 70 species of toothed whales (which include the dolphin, killer whales, the porpoise, beluga whale, narwhal, sperm whale, and beaked whale). Then there are 15 species of baleen whales, including the Sei whale Steve captured in the Azores. Other in this species include right whale, bowhead whale, rorqual, pygmy right whale, and gray whale.
On the Fan Club page you'll see the whale, a sparrow, and three photos of playful dolphins.
May 25, 2019:
In addition to adding to this blog every week, I also help Bobbi keep all the other pages on this website up to date. That means adding animals to the Fan Club, new photos to my page, and new information to the various cat resources.
This week we found out that Sting (one of Bobbi's favorite musicians) has a home near Florence, Italy. In the segment on CBS This Morning, a black and white cat was sitting in the driveway. So we were able to add Sting to the long list of Celebrities Who Live With Cats.
Bobbi is always adding fascinating information to the Facts pages, which are now divided into sections for Art & Music, Film & Theatre, Food, History, Animals, and, of course, Cats.
May 18, 2019:
It's still really cold here, but I decided I need to start exercising to prepare for the warm weather which is certainly coming. I don't go outside - ever - at all - but it takes energy to jump on my window perches, and run back and forth between front and back windows to see if the same squirrel is moving from the front to the back yard.
So here is the poster of yoga poses
Bobbi created from a calendar she
received for her birthday one year,
along with a few pics of me stretching.

I can't stand on my front legs yet, but
I do sometimes touch front paws to
back ones, and certainly often crouch
down into the first position.


In addition to jumping and running, I also get a lot of exercise chasing balls and springs, which I then hide all over the house.
May 11, 2019:
There are so many Special Days in May, we can't possibly name them all. For example, May 8 was No Socks Day. That seems to me to be a direct insult to tuxedo cats!
Having socks is one of our defining characteristics, as you can see in the photos of Terzo, below, and also of me, as I'm a Blue Smoke Tuxedo.

May 4, 2019:
May is Better Sleep Month. I don't understand that, because cats sleep all the time. Some cats, however, do sleep more than I do. I spend a lot of my time eating, washing, playing, looking out the window, or cuddling with Bobbi.
April 29, 2019:
Sorry to be late posting this week. Bobbi had dental surgery last week, and I was busy taking care of her. We've also been watching rising flood waters in Gatineau. Our home is not in danger, but we're expecting more rain this week!
I do have some exciting news to share. Bobbi won First Prize in the Ottawa Independent Writers' short story contest. I want everyone to know I helped her write this story. You'll see her certificate, congratulations card and cheque below, along with a photo of me supervising the writing of the story she's submitted for the 2019 anthology.
Twenty in Eighteen was edited by Bob Barclay of Loose Canon Press. The prize came with a certificate and a cheque for $150.

April 19, 2019
Here's my Easter basket, filled with balls, a few springs, and a couple of "crinklies," carefully watched over by two of my teddies. In the other photo, you'll see me with my old collar. You can see how worn out it is, probably from my vigorous washing!
April 13, 2019
In honor of National Wildlife Week, Steve Pitt sent us some fabulous photos of a fox on his property on Lake Talon in Rutherglen, Ontario. Steve wrote: "Foxes are usually attracted to bird feeders to catch mice, voles and other small rodents that are attracted to bird seed. This fox just decided to skip the middle beast and go straight for the seed." Note the second photo, where the fox seems to be staring down the camera.

April 6, 2019
Lots of special days to celebrate this month. April 3rd was Find a Rainbow Day. That wasn't easy here, because we had more snow! Not much, but a bit discouraging because we're hoping this month will melt the huge piles of snow left by plows and snowblowers at the end of all of our driveways.
April 4th was National Pillow Fight Day. Bobbi and I celebrated by her hiding one of my favorite toys, small plastic springs, under my favorite small pillows. I love that game!
National Wildlife Week starts April 10th, National Pet Day is April 11th, and Pet Owners' Day is April 19.
March 30, 2019
March came in "like a lamb" and it seems it will also go out that way. Thank goodness! I'm tired of looking out every window and seeing nothing but snow. I'm eager for Don to be able to get to the bird feeders in order to fill them, as I miss seeing my little friends fluttering their feathers as they vie for the best position to gobble seeds.
Meanwhile, I'll thinking of taking
a balloon ride, at least a virtual one:


And I'm trimming my back claws, because I don't let Bobbi do that.

Did you know that I actually ask her to cut the sharp edges off my front claws?
March 23, 2019:
I think I need to talk about Important Words. Bobbi gets a lot of questions from friends who have cats, and it seems to us that these cats don't understand the Important Words they should learn at an early age. But it's not too late, so let me share the ones I've learned in my four years in this household.
The first Important Words Bobbi taught me were "Come here," "Sit," "No!" (said VERY LOUD with much clapping of hands so I immediately understood I'd done something really wrong), "Get Down!" (same tone of voice and often accompanied by a shove), and "Good Girl." I was a year old when she adopted me, so cats can learn at any age.
She soon added "Sit by your tray," which I have to do before she puts my food down, and "Stay," which she used whenever I tried to go near the door that leads from the kitchen to Somewhere Mysterious. I soon learned that beyond this door was the back hall and the door into the carport, as visitors often came in that way, and that's where Bobbi went when she left me alone, sometimes for hours at a time.
But there's also another mysterious place beyond that door. I leads to something underneath us, and I always worry when Bobbi goes there and doesn't come back for an hour or so.
There are also a bunch of other Important Words I've learned. They include "Give me a kiss," which means I have to put my face near hers, which is always followed by "Give me your paw," and then "The other one," which means to get a treat I have to do all three of these things! We usual do this routine while I'm on her lap.
I soon learned that lifting one paw almost always produces a positive response, so I do that a lot when I want something.
Another thing I do for a treat or a toy is "Touch it with your paw." And since I love to play with balls, I've learned how to "Catch the ball." I even catch other toys in my paws if she says, "Catch it!" Another command I understand is "Jump" which she uses when she throws a toy above my head. We do that a lot with soft mice and crinkly balls.
Bobbi always says, "Excuse me," when she wants me to move out of her way. That's keeps her from accidentally stepping on my tail!
Don, our handyman who comes three days a week, has taught me to "Roll Over," so he can pet my tummy and brush both sides of my back. I love to be brushed, so I learned that command very quickly!
March 15, 2019:
Today is the Ides of March, marking the assassination of Julius Caesar and a turning point in Roman history. When Bobbi taught Shakespeare's play to her students at The Latin School of Chicago, one student dubbed March 15 Ubble Day. The name stuck, and every year Bobbi celebrates the day with Susan Haskins, creator and host of the Emmy-Award-Winning PBS NY TV show, Theatre Talk.
This is also National Wildlife Week. I wonder if the snowshoe hares living on our property, along with the squirrels and birds who visit daily, are having a party. The weather has warmed up, snow and ice are melting, and I expect we'll see a pair of cardinals in the back yard very soon.
Meanwhile I want to share these two pictures Bobbi took when I was on the desk (where I'm usually not allowed). They'll move to the sidebar on the right in a few weeks.
March 9, 2019:
I don't know if I've written about this before, but it bears repeating in any case. I HATE the spring and fall time change! No one seems to be able to explain why it makes sense to change our clocks twice a year, and it's been proven that accidents increase when the time changes.
As a sensitive animal who spent the first eight or so months of my life outdoors, I'm very tuned into the seasons, the weather, when birds migrate and return, how squirrels bury food for the winter, and everything else having to do with nature in a semi-rural area.
I thrive on sunshine, which automatically increases as the days get longer, so we dont' need to change the clocks to make that happen. In fact, just today I took my morning bath in the puddle of sunshine at the foot of the bed.
Changing the clocks disrupts our routine. Bobbi has to adjust the timing of her medications, I get fed later (much to my annoyance), and everything is out of sorts.
As I monitor Bobbi's activities this weekend, following her around as she changes all the clocks and timers, the coffee-maker and the microwave, I'll be trying to figure out how to STOP THIS NONSENSE!
March 2, 2019:
As we wait for spring to arrive, I thought I'd share more about the Fan Club. There are now more than 150 species from 56 countries, including two kinds of woodpeckers, three kinds of seals, three kinds of penguins, several kinds of monkeys, different kind of iguanas, three types of hares, several kinds of geese, three kinds of frogs, several species of foxes, several species of fish, five kinds of ducks, and many species of deer.
Collecting these over the years has allowed Bobbi to learn a lot about different species (who knew there were 17 species of penguins?) and also helped me learn a lot about the animals I sometimes see on TV.
We often have help from Steve Pitt, who is great at identifying all kinds of birds, and who sends us lots of wonderful photos from his property on Lake Talon in Rutherglen, Ontario. When I see birds eating peanuts out of Steve's hand, I wonder what the birds at our feeder think when they see me sitting on the other side of the office window. I know the squirrels consider me a playmate, as we often play staring games when they sit on the windowsill.
February 23, 2019:
Exciting additions to the Fan Club this week. Our friend, Fran Shaw, sent us a giant tortoise, iguanas from Ecuador, a capuchin monkey from Costa Rico, and several fur seals which prefer land to water, and share space with the tourists in the Galapagos Islands!
Meanwhile, Steve Pitt continues to document the clever ways the squirrels on his property raid the bird feeders. Here's a squirrel flying through the air from one feeder to another, and an outraged woodpecker objecting to a squirrel stealing his food.
February 16, 2019:
I spent Valentine's Day curled up on the bed, with my paws crossed. It was too cold to sleep in my round fur bed in the guest room (which I claim is MY room), because it's on the north side of the house. You can see how much snow fell during the week from this photo Bobbi took of the front porch. Bobbi loves it when I cross my paws, but in this case, it was to wish that the snow would stop!
February 9, 2019:
I had a terrific birthday, and here are some photos of me with the contents of my gift bag and two cards I received in the mail. Notice that Hammy and Red Mouse are inspecting my presents:
This week we also celebrated the Chinese New Year. It's the year of the pig, but my lunar sign is the Wood Horse. That means I'm full of imagination, look at everything from a unique perspective, and always want to express my ideas. I'm also "emotionally sensitive" and pair well with the Wood Dog, which is Bobbi's sign.
February 2, 2019:
My birthday is tomorrow, but Bobbi wouldn't let me open my gift early, so you'll have to wait until next week to see what's in the bag. I'm sure there are balls and springs. I have lots of those, but they are easily lost as I play with them, and end up under pieces of furniture, behind things, and even in the closets that have sliding doors.
Like Terzo, I learned how to open these doors and often hide toys inside. Terzo liked to keep his collection of toy mice in one closet. Every so often Bobbi would find a mouse she hadn't seen for a while in the middle of the den floor, after he took it out of the closet during the night.
He had a favorite bear he always made sure was in the den or bedroom at night for safe-keeping. He would carry it around in his mouth, like a newborn kitten.
I do the same thing with my hamster. I'm not happy if Hammy ends up in the living room or kitchen at bedtime. I make sure to find him during the night and Bobbi often finds him in the hall or den in the morning.
You can see how much I love Hammy if you scroll down through the photos on the right side of this blog.
January 26, 2019:
I'm very excited about my Big Birthday next weekend. I'll turn FIVE on Feb. 3, and celebrate four years since my adoption on Feb. 4. I had been spayed on Jan. 19, so had just been put into a cage in the adoption room, after my stiches were removed. Then Bobbi arrived!
There's a gift bag sitting on the couch in the living room, with a big birthday balloon tied to the handle, and my huggable teddy guarding it. I'll make sure Bobbi takes photos of what's inside the bag, along with any cards I received, and post them next week.
Meanwhile, here's the present, along with a photo that made me laugh this week. It's of one of the deer on Steve Pitt's property, getting his tongue stuck on the bird feeder as he tries to snitch some of the seed Steve put out for the birds. That'll teach him to settle for the seed Steve scatters on the ground for the visiting deer.

| | |
| --- | --- |
| | Don't worry, he managed to get his tongue unstuck, while Steve stood by with a jug of warm water, just in case! |
January 19, 2019:
2019 is featuring five eclipses, a rare planet transit, one of the best meteor showers and a super blood wolf moon, three supermoons, a blue moon, multiple meteor showers, and a close approach by the moon and Jupiter.
I'll be sitting in the bedroom window tomorrow at midnight, to watch the first total eclipse and the Super Blood Wolf Moon.
Meanwhile, we have snowshoe hares in our back yard again. I sometimes get a glimpse of them, but they're pretty elusive and the only way Bobbi knows about them is that Don (my pal and our handyman) has seen their tracks.
January 12, 2019:
Over the holidays we heard from Fran Shaw, a past-president of the Cat Writers' Association and a close friend of Bobbi's. She and her husband are planning another winter adventure, and may be sending us Fan Club members from Belize and Ecuador!
Things are quiet here, and Bobbi has put all the Christmas decorations away. But I noticed that she has a bag of large and small plastic balls, straws and springs that she's keeping out of my reach. Do you think that bag may be my Birthday Present?
I noticed that the book Bobbi is currently reading is called Ghosts and Legends of Prince Edward Island. If was written by an old friend, Julie Watson, who asked Bobbi to review the book contract for her. See the book on our Recommended Books page, and also check out the neat website of the photographer, John Watson (Julie's son).
January 5, 2019:
It's a New Year, and time for a new blog. I decided to redesign this page for a couple of reasons. First, I'm turning FIVE in less than a month, and took over the previous blog shortly after I was adopted four years ago.
We've moved the long list of charities and rescue groups we support from this page, as it's easier to find those links on the Fan Club page.
We added many new species to the Fan Club in 2018. In the process we discovered that there are 40 species of cats, 17 species of penguins, 18 species of seals, and an astounding 300 species of squirrels. Who knew?
We're fortunate to have several friends who travel widely, as well as a great photographer who lives on Lake Talon, near North Bay, Ontario, and send us photos regularly. There are many birds who visit Steve Pitt's feeders, lots of squirrels and deer, as well as a family of otters who lounge on the shore! He's also spotted ruffed grouse, geese, a snapping turtle, and many others.
We usually post to this blog every weekend, so stay tuned!