The first production by Plenty of Paws & A Flurry of Feathers
Simon Teakettle's Virtual MEWSical Society
Peter and the Wolf was written by Sergei Prokofiev in 1936. It was designed as an orchestral piece for children, spoken by a narrator with orchestra accompaniment. Our version was inspired by a new production Terzo watched on PBS. You can see it HERE.
The PBS site describes the simple story:
A boy (depicted by strings) wanders through nature, observing a duck (oboe), a bird (flute), and a cat (clarinet). The cat tries to catch the bird. Peter's grandfather (bassoon) admonishes him for wandering in a place where a wolf might attack and makes him return home. From that safe place, sure enough, Peter soon sees a wolf (horns) arrive on the scene. The wolf wolfs down the duck and then threatens the bird and cat. Determined to thwart the aggressor, Peter sneaks back outside and manages to catch the animal, with the help of the bird and a rope. When hunters (lots of timpani and bass drum) arrive on the scene, anxious to kill the wolf, Peter urges them to let the animal be taken to a zoo instead. As they all head off in happy procession, the duck can be heard quacking inside the wolf's stomach, "for, in his hurry, the wolf had swallowed her whole."
Plenty of Paws & a Flurry of Feathers takes a different approach. The music will be performed (virtually, of course) by Jazz on the piano. Terzo and Mrs. Doyle will provide the dramatic climax of percussion, depicting the hunters leading The Wolf to the zoo. The percussion group NEXUS will help us score this special scene.
This image of Mrs. Doyle shows her Refusing to Sing in the Shower. You can watch her practising her drumming on a video if you click HERE.
Those vying for the key role of Peter include all the black cats: Sammy Teakettle Olson (who thinks he has a lock on the role because he was named after Simon Teakettle the Younger (Tiki), Charlie Heenen (who has composed a "pome" to show his ferocity and ability to capture the wolf, and Tyler Coxon (the dark horse). But the new photo of Tyler, below right, has him in his most aggressive pose, ready to pounce, which certainly gives him an edge.
Tango thinks she should help choose the cast. In the photo (below left) she's deep in contemplation of this task.
Bailey, in her favorite dress, has volunteered to play The Duck. But Pigeon might contend for that role, because he has the ability to coo like a pigeon (hence his name). In his photo (below right), he's listening to the Prokofiev score on his boom box.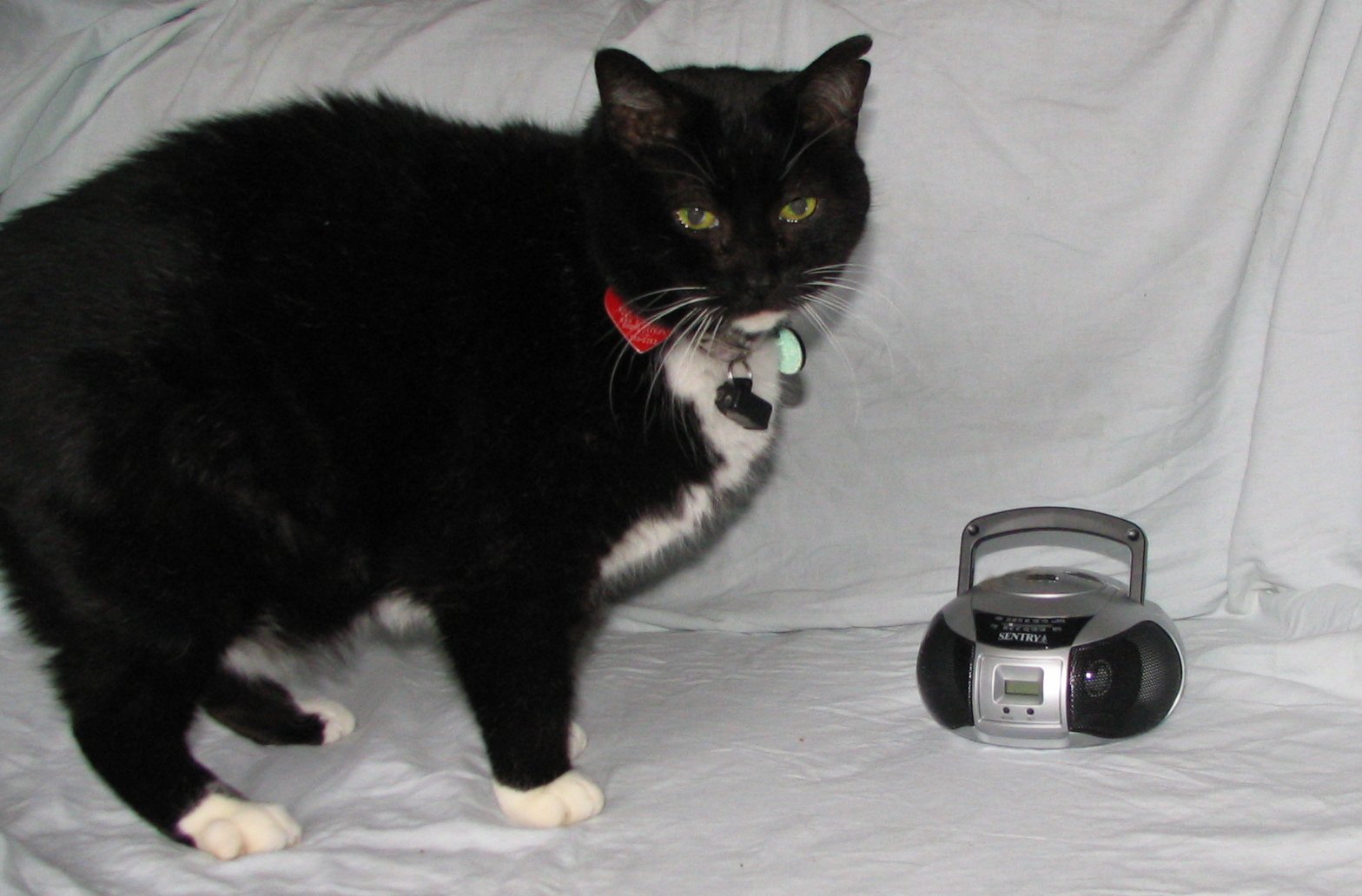 | | | |
| --- | --- | --- |
| | | |
Shoe-in for The Wolf is Bigfoot. But Stanley is a close rival. He lives with a former actress and casting director, so may surprise us with his audition. In the pose below, he's doing his Wolf in Sweet Pussycat impression.
Willow wants to play The Bird, but Tulip, Omaste and Pookie are also vying for that role. The Bird is a Very Important Role, as she has to be able to escape The Cat when he chases her, and has to be able to assist Peter with the rope when he finally snares The Wolf. Below you can see Willow, Omaste, and Pookie, in their first Bird Audition photos. All demonstrate the concentration required to escape The Cat and Grab the Rope.
Willow is probably going to snag this role, however, as she has submitted a haiku, which certainly gives her an edge:
Here comes the big wolf
Willow bird will distract him
Do not worry little duck
as well as three stunning photos showing her transformation from Willow the Kitty to Willow the Beautiful Bird: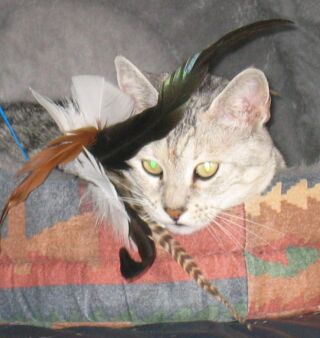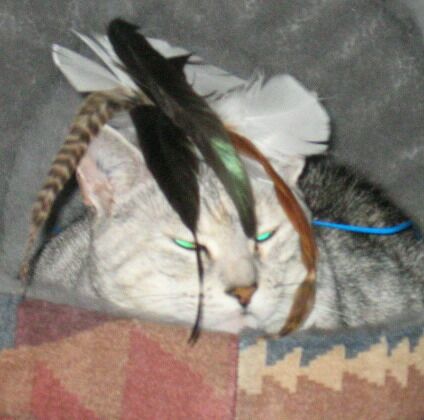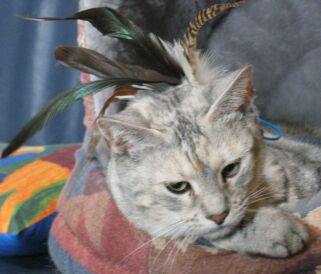 | | |
| --- | --- |
| Tulip may have lost her chance when she decided to take a long nap. She claimed she was visualizing how The Bird might perform. Sorry, Tulip, but The Bird can't afford to sleep on the job! (Stanley also slept through his audtion) | |
Everybody wants to play The Cat. This character is full of mischief, so lead contenders are Natasha (Nat the Brat), Charlie (who wants to play Every Part), Tyler, and Sammy. All are black.
Bailey thinks this pose is very cat-like.
A male Bluebird decided that Bailey was a threat to the nest he was building just outside this window.

Stanley fell asleep during his audition.

Tuffus prepares for his audition
by enjoying some catnip,
then washing,
followed by a short nap.
We will clearly need someone to mediate all these Cat Fights. So we've enlisted the help of Ottawa actor and director, John Koensgen, who teaches stage fighting. John appeared last spring in a productions of Facts and Heroes at GCTC, and has already been cast in the new GCTC season. He will also be in Shakespeare productions at the National Arts Centre. We're counting on him to intervene in any fights among Society members. See Bobbi's connection to Shakespeare HERE.
We've also enlisted another GCTC regular, actor and director Todd Duckworth, to help The Duck perform his Disappearing Act. Todd will be able to show The Duck how to slip into The Wolf's mouth and slide, whole and still quacking, into his stomach, to await release by The Hunters. Todd is qualified not only by his Name, but also because he did a remarkable job of slithering from below the banquet table (when he played Banquo's ghost in a recent production of Macbeth) into the empty chair, then sliding like a snake back down.
Todd also appeared in the National Arts Centre production of Ecstasy of Rita Joe, where he didn't have to Disappear. We think The Duck ought to have a Special Dance for this scene. We'll enlist Bertha to work with Todd on this.
Meanwhile, Geneva is choreographing The Prance of the Bunnies and Butterflies for The Kitten Chorus.