December 27
This is our final blog post for 2014, and we'll be taking a bit of a hiatus while we redesign the 2015 blog. So we're grateful to Molly Davis for yet another wonderful photo showcasing Chris's crafting skills.
Here's Molly, "guarding" the nativity scene, one of his favorite spots to nap. Note his fluffy tail and the paw hanging off the edge of the shelf!
December 20
The Japanese island of Tashirojima is populated almost entirely by cats. They were brought to the island to keep mice from devastating silkworm farms, but when industry left the island, so did the human population. That's when the cat population boomed. The locals feed and care for the semi-feral cats believing it will being them good luck and prosperity. The fishermen also believe that the cats help predict weather patterns.
Another tidbit we noticed this week is that Jordan, a tuxedo cat who lives with Catholic friars in Edinburgh, spends most of his time at the Edinburgh University library. The library has issued him his own library card, and students set up a Facebook page for him.
The eight-year-old was adopted by the friars as a kitten, but has always preferred the company of students, and the well-heated library. He only returns to the friary to eat supper.
December 13
Santa clearly read our list this year, as we now have our 6th continent, 23rd country, and three more species in our Fan Club.
Thanks to Craig McMahon, who had been working for NASA in Chile, we have a hairy armadillo, a vicuna, and six penguins!
Hairy Harper is shown at the right. For the others, go to the Fan Club page.
December 6
With Christmas creeping closer, you may want to check out our many pages of fascinating facts, including things you may not have known about Christmas. Scroll to the bottom of the main Facts page for those.
Of course we have a page of Cat Facts, with many links to interesting sites, as well as information about cat characteristics and origins, recent studies and statistics, and tidbits about other feline species.
November 29
American members of our MEWSical Society and Fan Club celebrated Thanksgiving this week, so in honor of them, we're using a photo of Terzo in his pumpkin bib.
Don't forget that December 4 is Santa's List Day. We've already received one gift, an I-Go2 Traveler, made by Pet Gear in Rutland, Vermont.
This combines a carrier with a roller bag, and can be used as a car seat, tote or back pack. We're eager to try it out!
November 22
We're featuring a lovely bench made by Chris Davis, whose charming tuxedo, Molly, is a member of our MEWSical Society. Chris created this to celebrate National Cat Day.
The new company SpokesCat for Simon Teakettle Ink is expected to arrive any day. In the meantime, we've been adding lots of fascinating items to all our facts pages. If you start with Facts you can then click on the links to all the other pages, including Animals, Inventions, History, etc.
November 15
Some cats live in the lap of luxury. Chuck Blazer, a member of the FIFA Executive Committee from 1996 to April 2013, has a $6,000/month apartment in the Trump Towers just for his cats, next to his own $18,000/month unit.
There's also a luxe cat hotel in Montreal just for dogs and cats. Muzo, which is French for "muzzle," offers private rooms and various amenities for lucky guests.
Meanwhile, abandoned cats live outdoors, getting by using their wits and natural instinct. Cuddles is one of the cats found on an abandoned farm in Chelsea, Quebec.
November 8
MEWSical Society member Tulip Adams proved she understands actual words, not just the intonation of Sylvia's voice. Every morning Tulip enjoys a treat in the kitchen, which Sylvia calls her "crunchies." The then settles in beside Sylvia in the office, next to the computer.
Last week, Sylvia was watching a video online in which a man described his exercise routine: leg lifts, sit-ups, crunches, etc. When he said "crunches" she gave an approving little "mew" and ran off to the kitchen.
October 31
October 29 was National Cat Day, and National Animal Shelter Appreciation week is November 2-8.
We're celebrating Hallowe'en with a photo of one of our Fan Club members, Sunny Mao, who models for dog costumes created in Suzhou City, Jiangsu province, China.
She seems pretty happy to wear a hooded pumpkin coat!
October 25
Visitors to our household are often surprised that we not only have LOTS of cat figurines, photos, and stuffed animals, but also many elephants and giraffes. Bobbi has collected both since childhood, so we were thrilled to find two more animals from Kenya to add to our Fan Club.
We already have two goats, who are helping to support orphaned boys in Kenya, but have just discovered a wonderful sactuary for orphaned elephants and giraffes. They're supported by donations from "foster parents" and you can read about them on their website.
October 17
Yesterday was Feral Cat Day, which brings attention to the many cats who spend most or all of their lives outdoors. Many are the result of multiple litters from cats who were abandoned by their owners, and it's a growing problem in urban areas, as well as on farms.
We have many ferals in our MEWSical Society, as well as in the Fan Club, where a colony of ferals, almost all black or black and white, live in the barn on a farm owned by a close friend. The McElroys have created a safe haven for these cats, providing beddding, water and food, but many ferals aren't so lucky.
One of our affiliates, Alley Cat Allies is a major supporter of feral cat rescue, as is Alley Cat Rescue, which is based in Maryland. Also, the creator of The Pride Cartoon maintains a colony of ferals on Long Island, New York.
It's really important to support these organizations, and also to encourage everyone to spay or neuter their cats!
October 11
Fuzzy Rohde, who took over from Wuffy as the dog who rescues kittens, has a close bond with his latest pal, Trixie. They live in Los Angeles, CA, but much further north, in the NWT, Mowka Katz keeps his pal, Tempe, out of harm's way by following her everywhere. If Helena wants to know where Tempe is, she just looks out in the pasture to find the huge Great Pyrenees dog.
Tempe is a member of the MEWSical Society, and Wuffy was one of our first Fan Club members.
October 4
We tend to think of black cats this month, leading up to Hallowe'en. In fact, many shelters refuse to place black cats in the last weeks of October.
That's why Natasha Lennick wasn't adopted until the first week of November, 11 years ago next month.
Nat the Brat, as she's affectionately known, has been a member of the MEWSical Society since the beginning. David Lennick, whose computer Nat commandeers on occasion, was the CBC radio host who first began to feature Simon Teakettle on the air.
September 27
We have a bear in our Fan Club! Bella lives at the Montana Grizzly Encounter, a grizzly bear rescue and education sanctuary.
We've also heard from a woman in China who creates costumes for dogs. Gloria Mao's company is in Suzhou Industrial Park, and sent photos of a variety of adorable costumes she's created for dogs. We'll feature a Halloween costume next month.
Great Canadian Theatre Company has opened their 40th season with a stunning play, the world premiere of Boy in the Moon, by Emil Sher, from the award-winning memoir written by Ian Brown. It's received excellent reviews.
September 20
If you thought Lily Fry was cute, take a look at the latest addition to the Fan Club. Nefertiti was
rescued from the streets of Cairo to join MEWSical Society member Miss Noha Hagenguth, and the other Fan Club members in this busy household.
Heike Hagenguth is a German national who has lived in Egypt for many years, and works with rescue organizations there. Her son, Jan, goes to school in Germany, but misses his pets in Cairo!
September 13
Next month The New Yorker magazine is holding their annual Festival. On Saturday, Oct. 11, at 7pm, there will be a public debate called: You, the Jury: Cats vs. Dogs, which will feature supporting arguments and readings from notable authors and other luminaries, with live cats and dogs taking part. Some of people on the podiumand in the audience may very well be New York residents we see regularly on TV.
For example, Meredith Viera, Joy Behar, Whoopi Goldberg and Jon Stewart all have cats, as do Sting (who is in New York preparing for his new musical),
Bernadette Peters and Howard & Beth Stern.
It's pretty certain that Paul Krugman, who writes for The NewYorker will be there (his cats are named Doris Lessing and Einstein) and Joyce Carol Oates is one of the speakers listed on the program.
There's a huge list of Celebrity Cat owners HERE.

September 5
Welcome to two new feline members of our great Fan Club, both of who are related to MEWSical Society members.
Mr. Finn MacKool has joined the Zobel household in Norwalk, Connecticut, and Ginger Reardon has taken up residence in Ottawa, Ontario.
Meanwhile, the first cat cafe in Montreal has been so popular the owners are planning a second location. Hope they consider Ottawa soon!
Sometimes we come across something for the Cat Facts page that we want to share here:
Hodge, Samuel Johnson's favorite cat, has his own statue at Number 17 Gough Square where Dr. Johnson lived from 1748 to 1759. Hodge is sitting on Dr. Johnson's famous dictionary, as any respectable cat would, with a couple of tasty oysters. On his death, Hodge's life was celebrated in An Elegy on The Death of Dr Johnson's Favourite Cat by poet Percival Stockdale: Who, by his master when caressed, warmly his gratitude expressed, and never failed his thanks to purr, whene'er he stroked his sable fur&ldots;
August 30
The secret is out! Bobbi wrote a blog post called, Make Your Pet a Celebrity, which garnered her a permanent spot as a contributing blogger at The Publicity Hound. Read it on the blog page, at:
http://publicityhound.com/blogs
The Virtual Assistant who helps out at that site applied for a job with us, but Shelby seems to fall asleep on the job! She and her brother, Sylvester,
have joined the Fan Club, however.
August 22
We have our first fans from Vermont! Zorro is a feral ragdoll, and his brother, Norton, is a laid-back orange tabby. They live with Catherine Holm (whose nickname is Cat) and her husband, who moved from northern Minnesota last year.
We're still missing a few states, so if you're reading this and know of any pets in North Dakota, D.C., Hawaii, Indiana, Louisiana, Ohio, Utah, Oklahoma or Tennessee, ask them to join!
We've had a lot of rain here this summer, so if you have to spend more time indoors, watch this video of the Duet for Two Cats by Rossini:
http://tinyurl.com/6uh5lpq

Or watch this cat figure out how to get a drink out of a water cooler: http://tinyurl.com/pftyrre
The premier pet magazine in India has just published Bobbi's award-winning article, Training Your Cat Like a Dog. Read the article in the current issue, beginning on page 40:
http://www.creature-companions.com.
Sunday is Black Cat Appreciation Day. We have many black cats in the MEWSical Society, and both Simon Teakettle the first and the second (Tiki) were all black. In fact, the first Simon was quoted in The Beside Book of Celebrity Gossip (Crown, 1984) as calling Morris and Garfield those phony Americans in their loud orange suits. Simon was becoming known as the classy cat in the black fur tuxedo, and had already been on CBC radio for three years.
Another Society member, Molly Davis, will be helping out at the New Renaissance Bookshop in Portland this week, when Chris Davis presents a special workshop called Dancing With Your Dragons, as well as participating in a forum of authors talking about using magic and imagination to conquer fear.
On the right, you'll see Molly sitting in the tent Chris has created for her presentation. Note that the teddy bear and sword are larger than she is!
August 8
Today is World Cat Day! To celebrate, we're posting a new photo of one of the members of the MEWSical Society, Tulip Adams, who was enjoying visitors who brought presents for Sylvia's Big Birthday.
We're also celebrating a new member of our Fan Club, an addition to the famous Acro-Cats, who has proven to be a quick study, learning all the tricks in record time.
Here's Nola, sitting up on command, and "singing" along with the Rock-Cats. That means she's technically a member of the MEWSical Society as well, because the Rock-Cats are our Featured Performers.
One of our other featured performers is Aragon, aka Lord Tubbington of Glee fame. There's an article about Aragon on the Conscious Cats website, at: http://tinyurl.com/kjnxg8k
August 2
We received a wonderful present this week, mailed all the way from Taiwan! Eric Lo, the exceptionally creative wire artist who has a page on our website, created this lovely card holder.
Meanwhile, we've added the 100th dog to our Fan Club! Minion is the new puppy in the Buchanan household in Scottsdale, Arizona.
July 26
It's often tempting to add another species to our Fan Club, even if they aren't actual pets, or don't have names. One such candidate is this young osprey, which Helen Russo was allowed to hold while a wildlife official in Montana tagged it.
We're going to bend the rules for this magnificent bird, because there are so many Russo fans already, including cats and dogs who live in Panama City, their cousins in Spokane, Washington, and our first turtle!
We'll get back to featuring cats in this blog in August, as August 8 is World Cat Day, and August 17 is Black Cat Appreciation Day.
July 19
Steve Pitt continues to add to our Fan Club. His former dog joined, then his current dog, Chocka, along with her cousins and neighbor dogs, our first robin, our first otter, our first calf, and now our first deer. Rosie is a white-tail who is a frequent visitor to Steve's sister's property in Astorville, Ontario. When nobody chased her away, she returned with her daughter, Rosette. See them together on the Fan Club page.
Keep in mind that Steve is also responsible for both of the goats in the Fan Club. They both live in a small village in Kenya, where they provide both milk and baby goats so their young owners can go to school.
July 11
This is Pet Photo Day, and we're featuring another adorable black and white cat. Molly Davis likes to lounge inside the bird feeder!
She recently joined the MEWSical Society after sending us so many hilarious photos we had to make her the Casting Director for our virtual production of Alice in Wonderland.
July 4
Happy Canada Day earlier this week, and Happy Fourth of July today, to all our Canadian and American fans.
But we now have fans from 19 other countries, and have finally received a photo of our first fan from Costa Rica. We added that country to the list a while back, but the photo took longer to arrive than we anticipated.
The good news is that Trony has three siblings. It's fairly obvious, however, that he's the Lord of the Manor, given his position on top of this planter.
June 28
We've just added South Dakota to the list of states where we have Fans. This adorable Yorkie is from Natalie's Little Yorkies, true teacup and parti Yorkies that are both healthy and AKC Registered.
Since this seems to be a Dog Week, we should mention that Rosie, a deaf pit bull mix, was recently adopted by Cindy Koch, a woman who also happens to be deaf. When Rosie first arrived at the Central Nebraska Humane Society, workers couldn't figure out why she wouldn't respond to them. But one shelter volunteer realized Rosie couldn't hear them, and set out to teach the 3-year-old dog sign language.
June 21
Tomorrow the Just for Cats video festival is playing in Ottawa. Our Prime Minister is a huge cat fan, and his wife is a key supporter of the Ottawa Humane Society.
We entered Terzo's video, but it may be that they wanted silly, funny video clips instead of the "day in the life" our video depicts, which is also a demonstration of cat training.
However, a couple of photos of Terzo are in the Facebook page for the festival. They asked for "unusual sleeping positions" and we thought this one, with Terzo on his back, holding two mice, might garner some Likes.
June 13
It's Friday the 13th, and also a Full Moon, which only happens every 20 years or so. Fascinating facts about the moon (and lots of other things) on our Facts page. When you do there, you'll see links to facts about Culture, Animals, Food, History, and Inventions. And, of course, there's a separate page just for Cat Facts.
You may notice we've revised this page a bit this week. We moved the old blogs to the Site Map, and streamlined things a bit.
Meanwhile, we're expecting our 213th cat fan to join us, making Costa Rica the 21st country hosting our Fabulous Fan Club.
June 7
John Koensgen, one of the Human Advisors in the MEWSical Society, is among the cast of the world premiere of a new play by award-winning playwright George F. Walker. At the right he's shown with Eric Coates, GCTC's Artistic Director, who is a fan of Simon Teakettle. So is Arthur Milner, the play's director.
And in case you didn't know, June 4 was Hug Your Cat Day.
May 31
We've added a second goat to the Fan Club, another donation from Steve Pitt to a boy in Kenya. This one is another female, who will provide both milk and baby goats to help this young boy go to school.
The earlier goat Steve donated was named Bobbi, and this one is Terzo. We don't know if these boys live in the same village, but like the idea that Bobbi the Goat and Terzo the Goat might see each other occasionally!
Support the Get Your Goat program by going to the website called Creation of Hope.
May 24
Our MEWSical Society's new virtual musical production is Alice in Wonderland. We've managed to cast all the members of the Society in this huge show, and have even added a few affliate members to help us out.
Willow Atherton has been cast as Alice, and because it's such a significant role, she has an understudy, Aimee Arden.
Bungie Quesnel, the first rabbit to join our Fan Club, is coaching the March Hare and the White Rabbit. You can see Bungie's picture if you scroll down to the blog entry for Easter.
Many fans of the book forget that Alice has a cat named Dinah. We've cast Lily Fry in this role, although she seems to be dozing in rehearsals.
A production this large needs a transportation coordinator, so we recruited Sanchez, who seems at ease behind the wheel of the truck on the Katz-Couvrette alpaca farm in the NWT.
Check out the whole cast on the Alice cast page.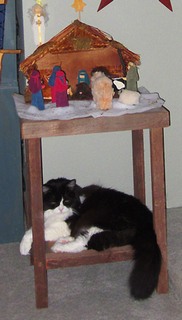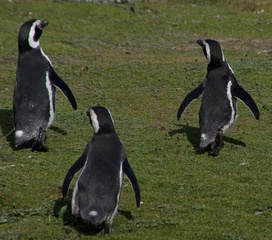 Our dancing penguins fans, in Chile.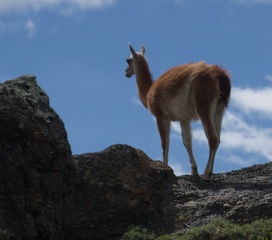 The first vicuna in our Fan Club is named
NASA, and appears to be looking for the
satellite in the distant sky.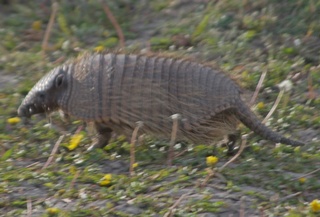 Hairy Harper, our first armadillo fan.
Above is one of the first photos ever taken of Tiki (Simon II), as a tiny kitten.
He lived to age 19!

And we couldn't resist this "kitten on the keys"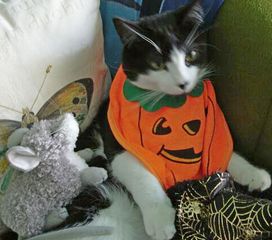 Terzo's mouse friend in hungry, too!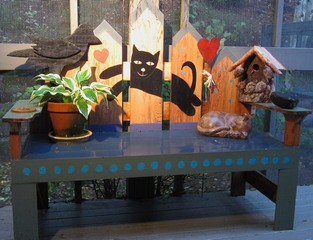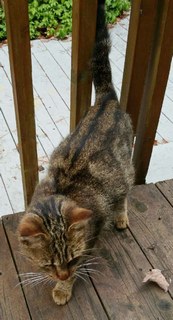 Cuddles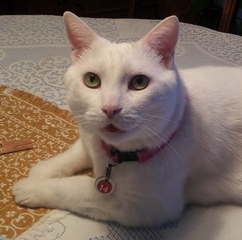 Tulip waiting for her "crunchies."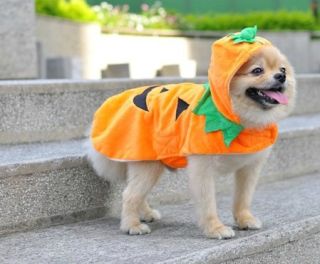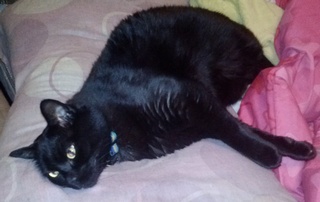 Mozart Russo, who lives in Spokane, Washington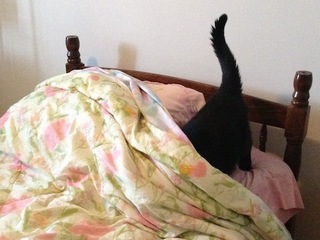 Snuggles Jamone, hiding in Ottawa, Ontario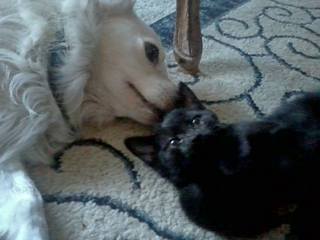 Fuzzy and Trixie Rhode, in Los Angeles, California.
Nat the Brat proofreading David's copy at
the computer in the Lennick household.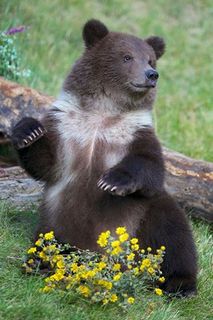 Bella, the young grizzle who has just
joined the Fan Club.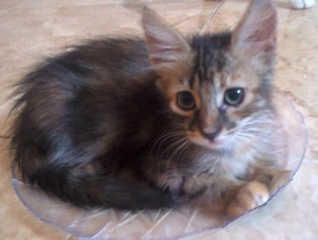 Nefertiti is so tiny she fits on this glass plate!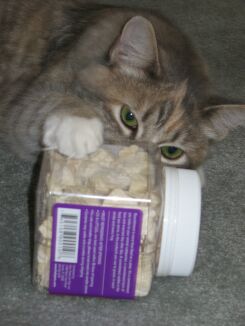 MEWSical Society member Lily Fry
trying to get into the treat jar.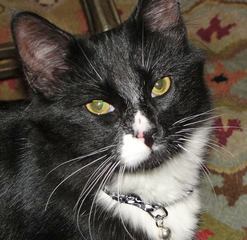 Mr. Finn MacKool Zobel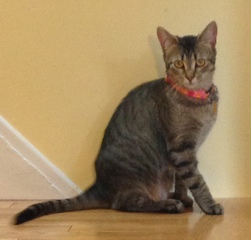 Ginger Reardon, in Ottawa, Ontario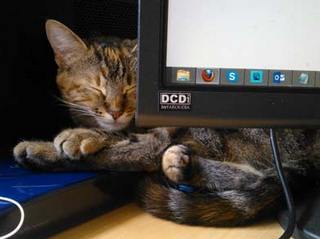 Shelby Buffaloe, sleeping on the job.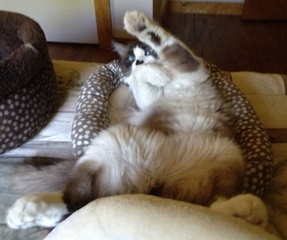 Zorro lying on his back, paws in the air.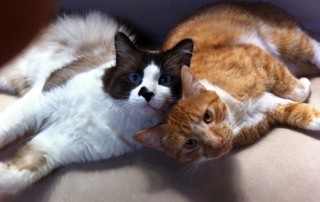 Zorro and Norton head to head on the couch.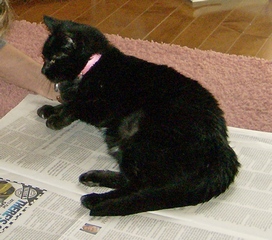 Natasha Lennick, aka Nat the Brat,
refusing to read the newspaper.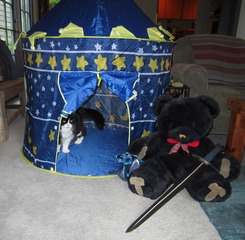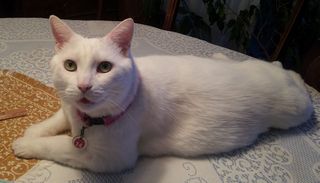 Tulip (above), greeting Ottawa visitors in July,
and Nola (below) performing with the Acro-Cats.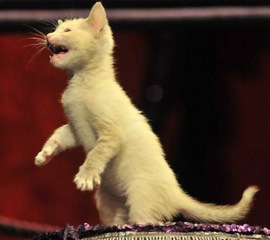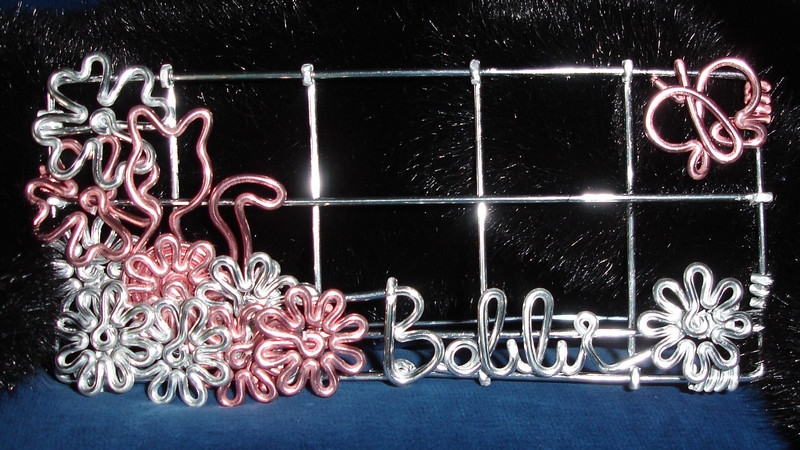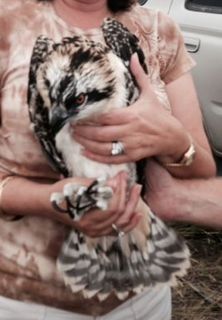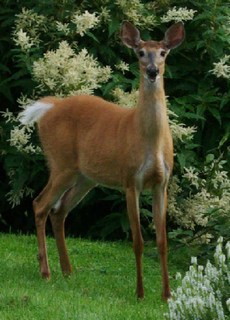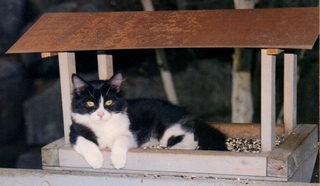 Molly Davis, relaxing just outside Portland, Oregon.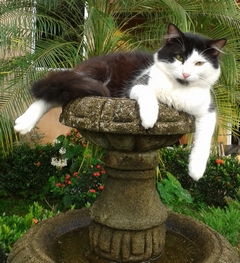 Trony Solorsano, Uvita, Costa Rica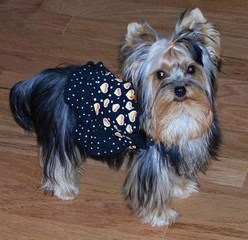 Rosie Nelson, Fan Club member from
Watertown, South Dakota.
Terzo with two of his favorite mice.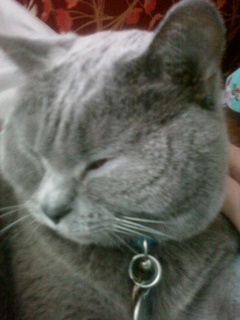 Aimee Arden, purring on Darlene's lap.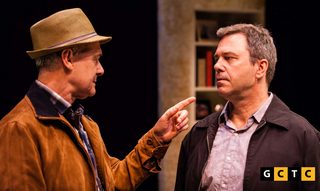 John Koensgen and Eric Coates on the GCTC stage.
(photo by Andrew Alexander)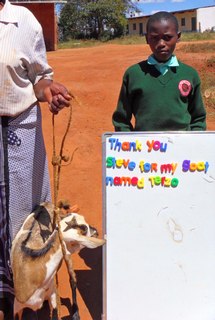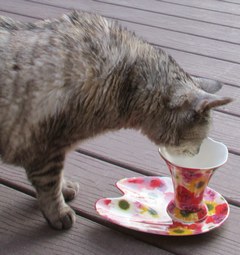 Willow rehearsing for the Mad
Hatter's Tea Party.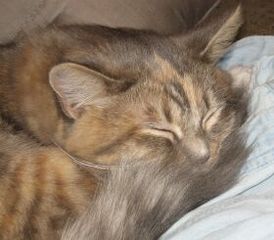 Lily Fry as Dinah, Alice's cat.